For Babies and Toddlers, Play is Work
Posted on: February 3, 2022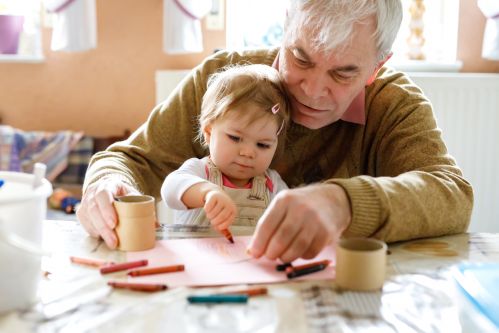 Building literacy skills begins before children recognize numbers and letters. When they learn that a cow moos, or the person with the white hair and big smile is Grandpa, or that glass is smooth, they are working to make sense of their world. This is the basis for associating objects, people and sounds with meaning and words.
Play is work for babies and toddlers.
We want to help you find resources for learning and fun! Visit our weekly Movers and Readers storytime for babies, toddlers, and young readers with stories, singing and movement activities. We offer a Storytime-to-Go kit with themes from the week's storytime.
Stop by the library and pick up an Early Learning Calendar that provides daily suggestions for easy activities that encourage literacy or brochures that offers tips for incorporating literacy activities throughout the day. Take a walk in Veterans Memorial Park and find a StoryWalk along the path that includes activities that encourage reading skills. All these are free to everybody – with or without a CADL card.
If you do have a CADL card, you can access some wonderful additional resources: Vox picture books that talk; Raising Reader backpacks with themed books, toys and activities; and Launchpad tablets with games that encourage literacy.
Find these and more on our website here. While some of our digital resources require a CADL card, ReadyRosie is free to anyone and provided by the Ingham Intermediate School District. You can also watch our storytime TV show here. Want more information about literacy activities? Stop by and ask us, we're happy to help.
---
Sherri M., CADL Stockbridge Head Librarian