Lansing
Friends of Lansing Libraries
The Friends of Lansing Libraries supports all three CADL branches in the city of Lansing–Downtown Lansing, South Lansing, and Foster.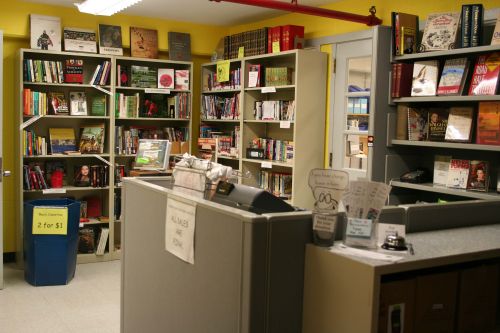 Contact Info
https://www.facebook.com/bookburrowoflansing -Visit our FaceBook page and 'like us' to stay up to date on everything happening at the Book Burrow!"
friendsoflansinglibraries@gmail.com or lansingbookburrow@gmail.com
The Friends of Lansing Libraries Board meets monthly, with an annual membership meeting.
Friends of Lansing Libraries Board is now accepting applications to be a Board member. Please click here for an application form.
The Book Burrow
Come browse one of the largest library book stores in Michigan--thousands of used books, movies and music in the basement of the Downtown Lansing branch. Join the Friends of Lansing Libraries for $15 and receive a 20% discount on all purchases.
Contact Information
phone: 517.367.6319
email: lansingbookburrow@gmail.com
Hours
Thursday: 11 a.m. - 2 p.m. and 4-7 p.m.
Friday: 11 a.m. - 2 p.m.
Saturday: 11 - 4 p.m.
Donation Guidelines
Please read and follow our guidelines so that we can transition back to a safe and fully-functional operation. Your assistance is greatly appreciated!
See USED BOOK DONATIONS at the bottom of this page for items not accepted. Donations may be dropped off on the shipping dock at the rear of the Downtown Lansing Branch, 401 S. Capitol Ave., Monday-Friday, 8 a.m.-3 p.m.
Book Burrow takes donation of materials in VERY GOOD condition
Please limit your donation to ONLY three file box-size boxes or three shopping bags.
No loose books, no oversized boxes, no trash bags