Lansing
Friends of Lansing Libraries
The Friends of Lansing Libraries supports all three CADL branches in the city of Lansing–Downtown Lansing, South Lansing, and Foster.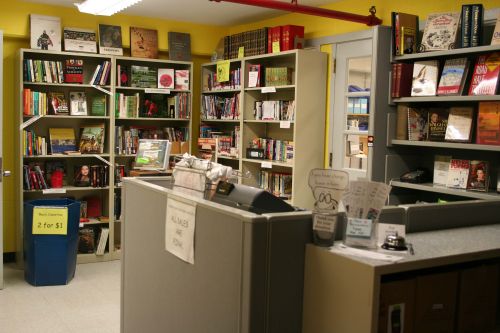 Contact Info
friendsoflansinglibraries@gmail.com or lansingbookburrow@gmail.com
The Friends of Lansing Libraries Board meets monthly, with an annual membership meeting.
Friends of Lansing Libraries Board is now accepting applications to be a Board member. Please click here for an application form.
The Book Burrow
Come browse one of the largest library book stores in Michigan--thousands of used books, movies and music in the basement of the Downtown Lansing branch.
Join the Friends of Lansing Libraries for $15 and receive a 20% discount on all purchases.
Greetings, folks … We are happy to announce that starting the week of June 14, we will be open to shoppers BY APPOINTMENT ONLY. Our temporary hours will be Thurs. and Fri. 11 a.m.-4 p.m. and Sat. 12 p.m.-4 p.m. Appointments will begin on the hours and run 45 minutes.
Appointments can be booked during hours of operations by calling 517-367-6319, as this is the only time staff is at the facility. PLEASE DO NOT CALL THE LIBRARY DESK … they cannot reserve time for the Book Burrow. We are two separate organizations that share the same building.
Contact Information
phone: 517.367.6319
email: lansingbookburrow@gmail.com
Hours
Thursday: 11 a.m. - 4 p.m.
Friday: 11 a.m. - 4 p.m.
Saturday: 12 - 4 p.m.
Donation Guidelines
PLEASE READ OUR GUIDELINES AND FOLLOW THEM, SO WE CAN TRANSITION BACK TO A SAFE AND FULLY FUNCTIONAL OPERATION. YOUR ASSISTANCE IS GREATLY APPRECIATED.
Book Burrow takes donation of materials in VERY GOOD condition. Donations may be dropped off on the shipping dock at the rear of the Downtown Lansing Branch, 401 S. Capitol Ave., Monday-Friday, 8 a.m.-3 p.m.
Please limit your donation to ONLY three file box-size boxes or three shopping bags.
****** No loose books, no oversized boxes, no trash bags. *****
We do NOT accept:
Encyclopedias
Text books
Dated material over 2 years old ( i.e. travel books, computer books, magazines, romance series like Harlequin, etc. )
Seminar or corporate manuals
VHS, cassette tapes or vinyl LP records
Readers' Digest Condensed or Book Club titles
Loose papers, pages, flyers or brochures
Garage or estate sale left overs
Anything with mildew, water, food or insect damage, broken spines, torn pages, highlighted text of other interior markings on pages.
If your donation does not meet our guidelines, you can donate books at these alternate sites:
St. Vincent de Paul - 1020 S Washington Ave, Lansing ( 517-484-5395 )
Volunteers of America - 5411 S. Cedar St., Lansing ( 517-272-3126 )
You can recycle old books at:
Friedland Industries - 405 E. Maple St., Lansing, MI ( 517-482-3000 )
MSU Public Recycling Dropoff - 468 Green Way (Farm Lane and Green Way), East Lansing (517-355-1723). They attempt to re-sell or donate before recycling.