We're bringing the holiday cheer, and Santa, to Dansville!
Posted on: November 5, 2019
The holiday season is a terrific time to visit the Dansville branch and attend special events.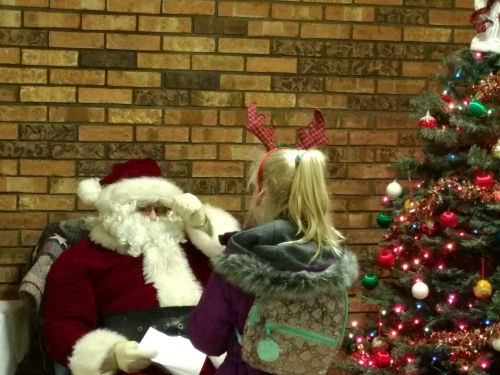 Stop by to check out the holiday collection of DVD's, CD's and children's books.
Holiday craft programs include a Christmas countdown calendar on Nov. 16, ornaments on Dec. 5, and gingerbread houses on Dec. 14. For more details call us at 517-623-6511 or check out our events calendar.
The Friends of the Dansville Library are hosting a book and media sale at the Dansville Elementary PTO Carnival on Saturday, Nov. 23 from 9 a.m.–2 p.m. The Friends sponsor library initiatives with the proceeds of the sale.
Holiday giving opportunities include a Toys for Tots collection box available from Nov. 4–Dec. 2. A collection box for the Dansville Food Bank is available now through Dec. 20. Donations of store packaged, non-perishable foods and personal care items are appreciated.
The Holiday Open House will be held on Tuesday, Dec. 10 from 5:30–7 p.m. at the Dansville Village Hall. Join your neighbors to celebrate with a visit from Santa and reindeer. Cookie decorating, hot chocolate and holiday crafts will be provided. This community event is provided in partnership with Dansville Village, Ingham Township, and Friends of the Dansville Library.
Lynn H., Head Librarian at CADL Dansville