Welcoming Chris Waltz to CADL's Board of Trustees
Posted on: August 31, 2022
Welcome Chris Waltz!
Waltz is the Executive Vice President of Finance and Chief Financial Officer for Dart Container in Mason, Mich. She's worked at Dart Container for 30 years, eight of those in her current position, and she plans to retire by the end of the year.
Waltz has been a Michigan native her entire life. Born in Munising, she lived on the shores of Lake Superior before moving to Iron Mountain when she was nine years old. She eventually left Michigan's Upper Peninsula to attend Michigan State University, where she graduated with a bachelor's degree in accounting. She has been an Ingham County resident ever since attending MSU and enthusiastically says "Go Green!".
Serving on our board of trustees isn't unfamiliar territory for Waltz. She is heavily involved in her local community and currently serves as treasurer of the Kiwanis Village of Mason and member of the Kiwanis Club of Mason. Additionally, she is a co-founder of 100+ Women Who Care of Mason, a local philanthropic group that brings women together to help raise funds for local nonprofits.

Waltz also formerly served as treasurer of Mason Public Schools Foundation and chaired two committees for Mason Public Schools, where they developed and successfully passed a $69 million bond proposal in 2017 for building, technology and safety improvements.

In addition to being appointed to our board of trustees, Waltz was recently appointed to a new role: grandparent. Waltz and her husband welcomed their first grandchild, Owen, in August and are anxiously awaiting the arrival of their second grandchild, a girl, at the end of the month. In her free time, you can find Waltz watching football and basketball, reading, walking, spending time with her husband and enjoying classic cars – especially her 1967 Mustang.

When asked what she is most looking forward to while serving on our board of trustees, here's what she had to say:
"I look forward to providing guidance in the form of policies, budgets and the like as well as strong advocacy for the mission of our local library system. I am excited to be a part of empowering our diverse communities to learn, imagine and connect."
Please help us in welcoming Waltz to CADL!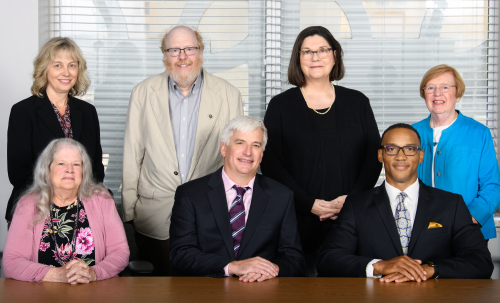 ---