What's Happening at CADL Mason?
Posted on: January 15, 2021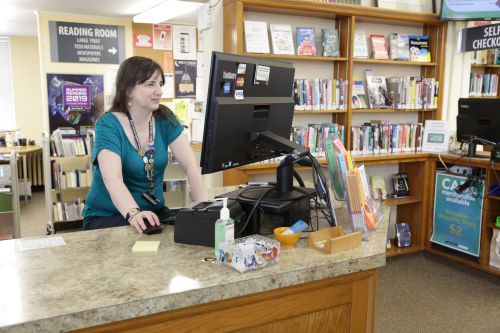 CADL Mason has had an eventful fall/winter season, made possible by the support of our members and partners and the creative energy of our staff.

We're always excited to share staff success stories; this November Mason Library Assistant Christine Martin-Resotko (pictured above) was the recipient of the 2020 McConnell Award for Innovation. This award recognized her expert knowledge of diverse genres, and especially her enthusiasm for tabletop gaming and pop culture.

Christine has helped develop a unique collection of hard-to-find gaming sourcebooks, all available for members to check out. These resources are wonderful for family and virtual gaming nights; there are many worlds to build and explore for all ages and interests. For example, let your imagination soar and learn to play games based on popular TV shows like The Expanse and Dr. Who.

We've also been working on expanding member options for picking up materials. This fall we've added new services at CADL Mason including Saturday hours and door-side appointments.

Exploring new ways to connect members with library services is just one way we are working to make your winter season memorable at CADL. We'll see you soon!
Heather Goupil, Head Librarian of CADL Mason