What Do We Do at the Library in Leslie?
Posted on: February 8, 2022
What do you while working in a library?
Sometimes people have grand visions of librarians exploring the world's vast literary wonders. I don't think you're going to find a librarian who wouldn't want this, but working at CADL is SO much more.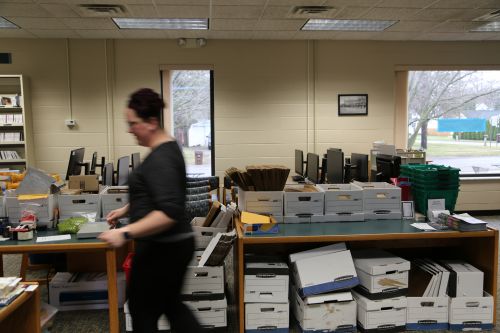 I'll spare you the less glamorous details of stickering materials, fixing things, and LOTS of cleaning in this post-Covid world. Working at CADL is the most rewarding job experience! Literally--For example, did you know the Leslie branch recently won the Leslie Area Chamber of Commerce Holiday Window-Display Contest? We wish to thank everyone who voted for the CADL Leslie and all of those who enjoyed this display.
On a personal level, the Leslie branch's wonderful staff creates joy for the community. Staff create Literacy Fun Kits for preschoolers to practice their early literacy skills. We also create STEAM kits and wonderful displays that help members find their next great book! Most of all, we are experts at helping everyone with technology, finding information, or locating books & movies.
What may surprise you the most is just how far ahead we plan. Summer Reading Challenge planning starts in September for the following summer. Yes, you heard that right, we're about halfway done planning for next summer. Last November, we also started planning for our newest project, the Leslie Seed Library.
The next time you wonder what we do, feel free to ask. I only just cracked open the book!
---
Jeff A., Head Librarian of CADL Leslie