Timetra Horton Receives Director's Award
Posted on: February 27, 2023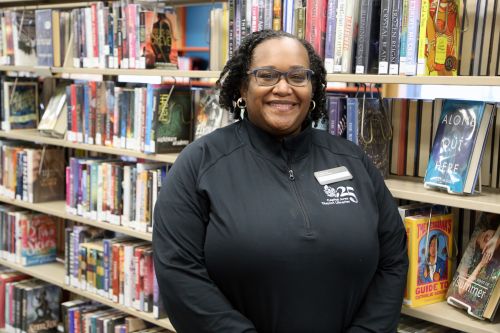 I'm so pleased to announce that the Director's Award for February was given to Timetra Horton, page at the Downtown Lansing branch. Timetra is such a nice, welcoming, and helpful person to both staff and members. She's worked for CADL since May 2022, and during that time, she's made such a positive impression. Head Librarian Melissa Cole had this to say about Timetra:
"Timetra has not been with CADL for very long, but she has proven to be a kind, reliable, patient, and a hardworking page at the Lansing branches. She always has a kind word and friendly smile for staff and members. She has recently volunteered to work extra to ensure that we had a page in the building and even made little loaves of really yummy banana bread for staff, which I think that alone deserves the Directors Award. She is truly a joy to work with and we would be lost without her!"
When I told Timetra that she was given the Director's Award for February, she did have a confession. While she did bake the banana bread, "Melissa should get partial credit because the bananas came from her." You're the best Timetra and we are so glad you work for CADL!
---
Scott Duimstra, CADL Executive Director