Skate into the Season with CADL
Posted on: November 17, 2022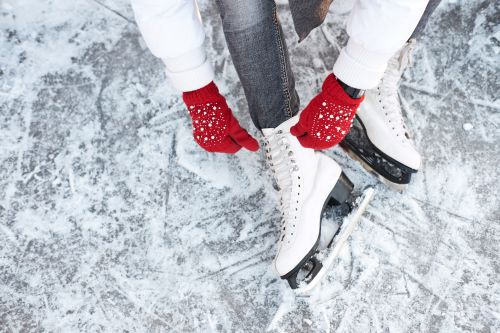 Thanks to a partnership with the City of Lansing Parks & Recreation and Downtown Lansing Inc., our members can (ice) skate into the winter season and enjoy a Greater Lansing attraction.

Beginning Friday, Nov. 18, our members can rent ice skates and hockey skates for free from the Downtown Lansing Branch for use at Reutter Park's outdoor skating rink. Reutter Park is conveniently located across the street from the Downtown Lansing Branch, at the corner of Capitol Avenue and Kalamazoo Street.

Skates will be available for rental during the following times:
Monday-Thursday from 10 a.m.-7 p.m.
Friday-Saturday from 10 a.m.-6 p.m.
Sunday from 12-4 p.m.
Skates can be checked out for the day and must be returned the same day before the library closes. Please note that, to ensure the skates are returned, the library will hold a driver's license or item of value during the rental.

The outdoor skating rink is scheduled to be open until March 2023 (weather permitting). So, if you're ready to hit the ice, visit the Downtown Lansing Branch today!

Donate Your Skates
Do you have a pair of ice skates and/or hockey skates that you no longer use? We want them! Donate your old skates to the Downtown Lansing Branch and help grow our collection.