Robert Chartrand Announced as New Head of Public Service
Posted on: September 27, 2022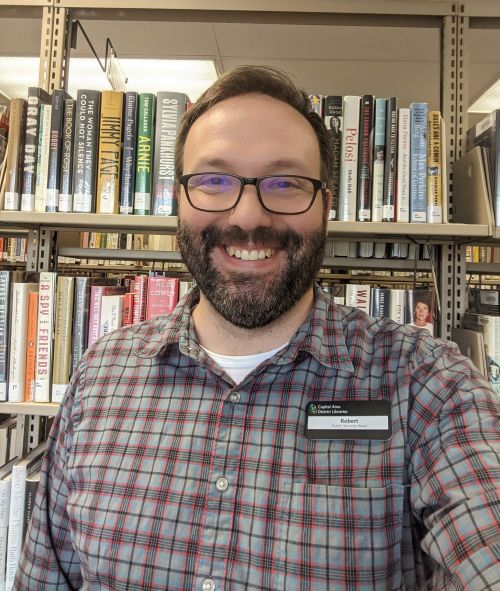 Capital Area District Libraries' (CADL) Haslett branch has announced the selection of Robert Chartrand to serve as its new Head of Public Services. Chartrand assumed his new position on Monday, Sept. 12.
Chartrand has worked at CADL since March 2019 as a Public Service Librarian at the Holt-Delhi branch. In this new role, he will help manage the day-to-day operations at the Haslett library and will help run some of the branch's programs. He will also assist Regional Head Librarian Thomas Moore in CADL's efforts to build greater synergy between the Haslett and Okemos libraries.
"CADL does a lot of great things for its members, and I appreciate the opportunity to do the same in this new position," said Chartrand. "I am excited to work with Tom, the Haslett library staff and the Meridian Township community, and I look forward to all the new possibilities we'll create by collaborating with the Okemos branch."
Chartrand brings 20 years of library experience to his new role. Before joining CADL, he served as Head of Circulation at the East Lansing Public Library from 2013-2019. Prior to that position, Chartrand was employed by the Delta Township District Library (DTDL) for 11 years. He started at DTDL in 2002 as a Library Page before being promoted to Circulation Clerk in 2007, then Youth Library Assistant in 2008. He holds a master's degree in Library and Information Science from Wayne State University and a Bachelor of Arts in Psychology from Michigan State University.
"We are very pleased to be adding an individual with the skill and experience needed to enhance our operations at the Haslett library," said Moore. "Robert will be an asset in the
years to come and I am excited to welcome him to the Meridian Township community."