Reader's Roundtable Podcast Returns!
Posted on: January 12, 2019
Capital Area District Libraries is excited to provide you with a nice mix of entertainment and information through our CADLcast network of podcasts (CADLcast, Executive Edition and Reader's Roundtable).
Episodes are available here or through Apple Podcasts, Spotify and other streaming services.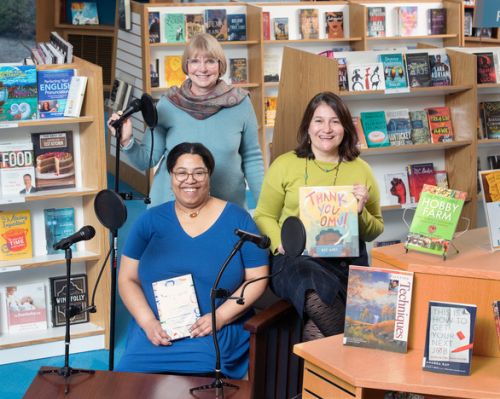 Returning for a second season is the Reader's Roundtable Podcast. Book lovers are in for a treat each episode as CADL's Collection Development Specialists Jessica Trotter, Mari Garza and Sherri McConnell discuss books, interview authors and check in with other staff members.They kick off the first episode of 2019 with a preview of CADL's Winter Is For the Birds Reading Program and a selection of their favorite comfort reads.
Other Podcasts
CADLcast Podcast – Mark Buzzitta hosts our flagship podcast featuring interviews with national personalities and local movers and shakers. Buzzitta is a long time library assistant with CADL and local radio personality.
Executive Edition Podcast – CADL Executive Director Scott Duimstra shares the microphone with government, business and community leaders from within the Capital Region. Duimstra is the fourth executive director of Capital Area District Libraries.