Nancy VanWert Receives Director's Award
Posted on: August 27, 2020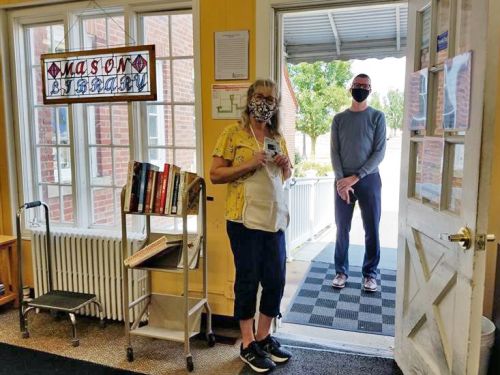 I'm so pleased to let you know that the Director's Award for August was given to Nancy VanWert, library page at the Mason Branch. Nancy has truly helped the Mason Branch during the reopening for contactless item pickup. She has done an amazing job labeling and arranging boxes of quarantined items waiting to be checked in and has been a cheerful face for Mason patrons picking up their items through curbside. This is what Heather Goupil, Mason Head Librarian had to say about Nancy:
"Nancy's feedback has helped us make many adjustments to improve workflow, while keeping our library looking great which really boosts staff morale. Her cheerful service at curbside also puts a smile on many Mason faces."
Along with all of this, Nancy saved both Heather and the RIDES driver from a huge, horrible, could possibly be deadly spider. Now that is going above and beyond. 😊 Nancy, thank you for all that you do for the Mason patrons, the Mason Branch and for CADL. It's greatly, greatly appreciated.
Thank you,
Scott Duimstra, CADL Executive Director