In Memory of Michele Brussow
Posted on: May 3, 2019
Michele Brussow started her career at Capital Area District Libraries (CADL) in November 2001 as a substitute library assistant. She then held positions as library clerk and regular library assistant at CADL South Lansing. While working at South Lansing, Michele went back to school and received her Master of Library Science (MLS) Degree from Wayne State University in 2008.
Michele was promoted to head librarian of CADL Williamston in April 2009. There she focused on increasing the branch's outreach by partnering with community organizations and schools. Under her leadership, participation for Summer Reading at Williamston jumped nearly 25% and circulation of materials increased by 17%.
In September 2011, Michele was promoted to head librarian of CADL South Lansing. Again, her focus was on providing excellent programming and outreach to members. She partnered with the Information Technology Empowerment Center (ITEC) of Lansing to bring free LEGO robotics to the Lansing area and initiated the ITEC camps for CADL members. Michele also worked with Michigan State University Service-Learning to provide free homework help to students and collaborated with Early On of Michigan to make intervention services and activities for infants and toddlers available at the library. She worked with MSU Science Theater, installed iPads loaded with early literacy apps for younger members and added more sessions of popular events, such as Minecraft Game Night and Science Saturdays.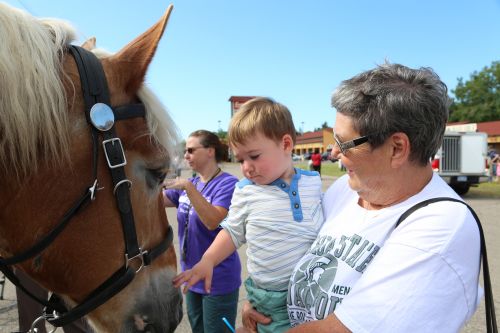 Michele and members visit police horses during See a Hero, Be a Hero event, at CADL South Lansing in 2015.
Above and Beyond
Michele also was passionate about helping her homebound members. Holiday greeting cards that staff would sign were sent to some of her long-standing elderly members. She checked on them when she could, and occasionally and personally delivered some of them books. Under her leadership, visits to CADL South Lansing increased dramatically and many more members began using it as their regular branch.
In 2013, Michele helped plan and organize a major renovation of CADL South Lansing. She wanted to create a more open concept floorplan for the library and have a collection of items that members could easily and comfortably browse. Her planning and dedication led to 30,000 items being checked out after the renovation.
During the same year, she was presented with the Dr. L. Robert McConnell Award for her visionary leadership, her dedication to the South Lansing staff and community, and her positive, enthusiastic and unwavering support for Capital Area District Libraries. She celebrated with her staff, by using the money she received from the award, and took them all to dinner.
Michele also served as the UAW representative for the library heads and played an integral part in contract negotiations.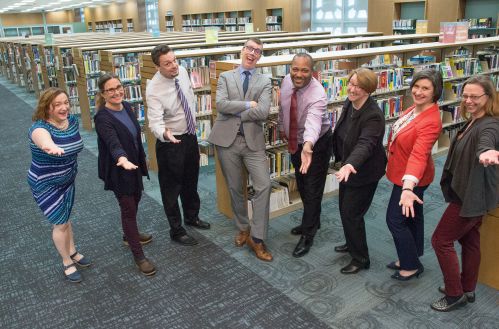 Michele poses with the management team for a fun photo, 2018. Credit: Trumpie Photography
Michele's focus on creating a welcoming and friendly library for members cannot be overstated. She continuously looked for ways to make the library a more comfortable place and had recently purchased new furniture to add to the beautiful gardens located outside of the children's area. She often visited with members who came in and was a constant presence in the library building.
Michele also dedicated much of her resources and energy on being out in the community and encouraged her staff to do the same, which included participating in events such as: Silver Bells, Juneteenth, Be A Tourist In Your Own Town, WKAR events, before and after school programs at Lansing Community Centers, Lansing Schools Showcase and Late Start days, Meet up and Eat up, Head Start, Refugee Services and many other programs and events. Michele started the very popular monthly music series and her first ever Downtown Lansing Craft Fair was held recently to rave reviews. Michele also initiated CADL's annual participation in the Lansing Area AIDS Network National IV Testing Day. Next year, to honor Michele's request, many CADL branches will host Dog Mushing Teams.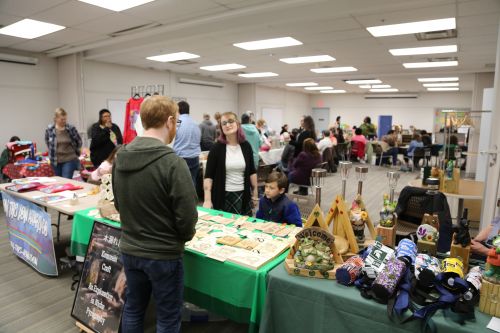 The first ever CADL Downtown Lansing Craft Fair, with over 30 vendors and 570 attendees.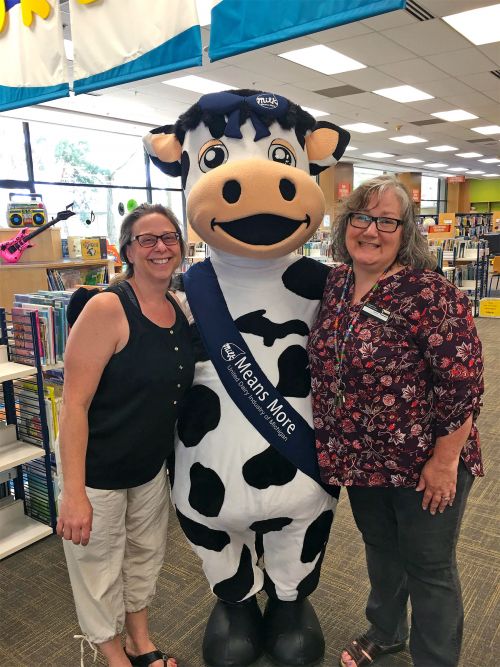 In partnership with Lansing School District's Capital Area Meals Coalition, more than 300 free lunches were served to qualifying families who attended CADL Downtown Lansing's programs over the summer.
Beloved CADL Team Member and Role Model
Michele was full of energy, always looking for ways to serve her patrons better and for ways to make the branch run more efficiently. Public service was her passion and she was an excellent role model for her staff. Michele encouraged her coworkers, offered advice and support so that they could be successful. She believed in investing in her staff by providing opportunities for them to develop both personally and professionally. She recognized people for their efforts and expertise and encouraged them to have a voice on issues that were important to them. She never asked staff to do anything that she wasn't willing or wouldn't do herself. No employee's position was unimportant to Michele and she created a real sense of family. Michele went out of her way to help others as a friendly and welcoming presence in our libraries.
She will truly be missed.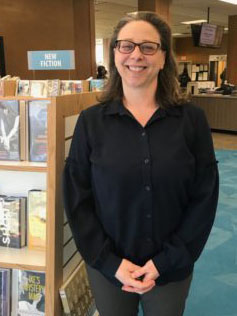 Michele at CADL Downtown Lansing 2019. Credit: Lea Mitchell

Julie Laxton, CADL Human Resources Director