Julie Chrisinski Receives Director's Award
Posted on: March 31, 2023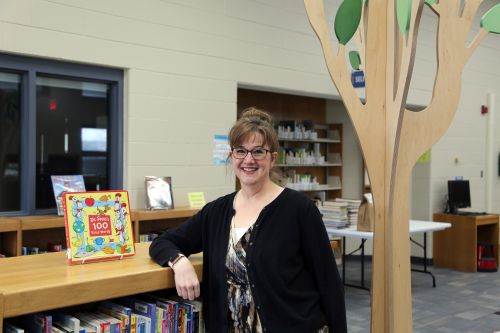 This month's Director's Award goes to Julie Chrisinske, Head Librarian at the Williamston Branch. Julie has done a phenomenal job there. In 2018, the library moved into the Williamston Middle School. It is an exceptional library, and Julie has guided it to become a focal point for the community and the students.
I saw that firsthand when I attended their holiday open house in December. Julie and her staff had the space set up to give families, students, and library members a festive and community feeling. You could tell that the attendees really appreciated the event, and it made me so proud to work for a library system that could make those connections with their community.
Julie has also brought her abilities to form connections outside of Williamston as well. She volunteered to work at the CADL booth at this year's Mid-Michigan Women's Expo. Our Marketing Director Trent said she did an exceptional job of connecting with attendees and telling them about library services.
I've also appreciated Julie's kindness. She is always quick to send a note of thanks or appreciation. Those things mean a lot. Julie, we are so appreciative of everything that you've done for Williamston and for CADL. We're lucky to have you working for us. Please join me in congratulating past McConnell Award winner and now Director's Award winner Julie Chrisinske!
---
Scott Duimstra, CADL Executive Director