Joining the League of Michigan Bicyclists
Posted on: September 30, 2019
We can talk about how important the library is all day long, but if you're unable to access our resources it doesn't do much good! If you can't get to the library then you can access the digital collection at home. However, if what you want to do means physically going to the library then how are you going to get here? For patrons who ride bikes, we have tried to make that easier.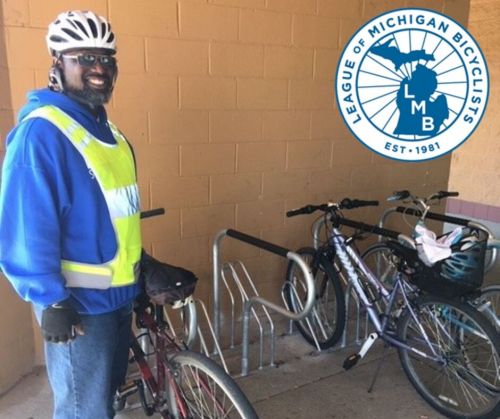 Early this summer, the South Lansing Branch of Capital Area District Libraries received a generous grant from the League of Michigan Bicyclists to provide more bike parking and bike locks. We wanted to help make South Lansing more bike friendly. With the grant we purchased a high-quality bike rack from a Michigan company, so that patrons have more options when securing their bikes at the library.
We also purchased several U-locks that patrons can check out while they're here, so they can keep their bike safe. When patrons leave the library, they return the lock. It's so simple.
Unless you've explored our Library of Things, you may not know that you can check out a CATA bus pass. Patrons that get to the library using the bus pass can still bring their bike.
Next time you are thinking of going to the library, consider riding your bike and check out our new bike rack and locks.
Melissa C., Head Librarian of CADL South Lansing & CADL Downtown Lansing