Join Us Outdoors at CADL's Leslie Branch
Posted on: August 24, 2022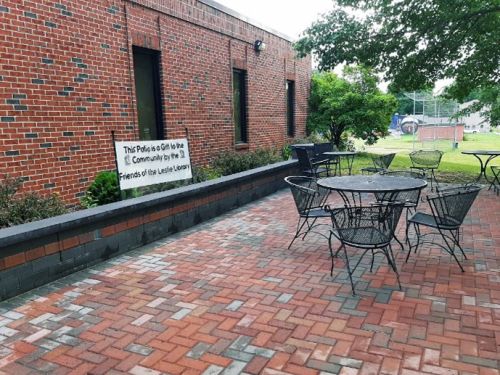 Capital Area District Libraries' Leslie branch just expanded its library to the great outdoors, thanks to the completion of its outdoor patio.

To commemorate the patio's completion, the Leslie branch held a ribbon-cutting ceremony on Wednesday, Aug. 31. The patio is located on the south side of the Leslie library, just a few steps from the main entrance.

The ribbon-cutting ceremony was hosted in conjunction with the Leslie Area Chamber of Commerce and the Friends of the Leslie Library (The Friends). The outdoor patio wouldn't have come to fruition without the help of The Friends, who funded the project. The group is already looking at ways to improve the patio and hope to install additional amenities in the future, including electricity.

The patio is available to community members and can be used for a wide variety of activities, including reading, working, relaxing and more. Library members can also expect to see the Leslie branch host some of its programs on the patio, including outdoor storytimes, after-school STEAM activities and holiday celebrations (weather permitting).

"At the Leslie library, we're big supporters of spending time outdoors because it can help children develop early literacy skills and improve the overall well-being of adults," said Leslie Head Librarian Jeff Antaya. "We're really looking forward to seeing Leslie area community members enjoying the library's services on the patio while simultaneously reaping the benefits of spending time outdoors."

We hope we see you reading a book, playing a game or enjoying the weather out on the patio!