Introduce your child to early literacy skills
Posted on: February 15, 2019
Storytimes are a great way to introduce your young child to the library, to reading, and to other children. They also offer a chance to get out of the house, meet new families, and introduce your child to early literacy skills they will need as they start school and learn to read.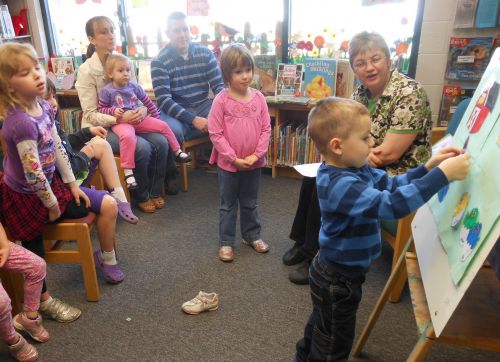 Plus storytimes are fun! At CADL South Lansing, each session ends with time to play with our sensory table and age appropriate toys.
We offer storytimes every Monday, Tuesday and Thursday at 10:30 a.m., each one geared to a different age or theme:
Mondays—Music Storytimes for children up to age 6. They will enjoy instruments, singing and musical stories in this fun and active program.
Tuesdays—Baby Storytime for children up to age 2 and their caregivers. These sessions are filled with stories, songs and movement.
Thursdays—Preschool Storytime for ages 3–6. Our stories, songs and activities help promote early literacy.
All storytime sessions are free and don't require any advanced registration, so stop in soon to check one out!
- Kathy Zayko, CADL South Lansing