How We're Improving Access to Hygiene Products
Posted on: December 17, 2021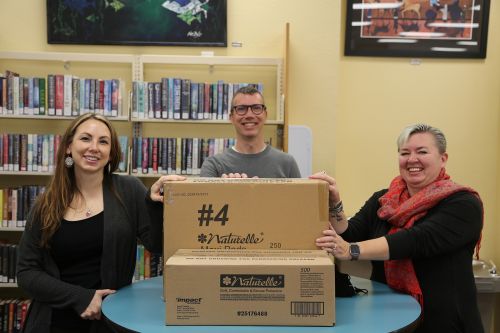 The Downtown and South Lansing branches of the Capital Area District Libraries recently partnered with Helping Women Period to bring menstrual hygiene vending machines to the libraries.
Helping Women Period (HWP) helps to combat period poverty by "provid[ing] no cost menstrual products to those experiencing homeless or low-income disparity." There is a lack of access to menstrual health products for homeless and low-income people and these products are not covered by welfare programs.
To help improve access to menstrual products for our Lansing community, we were more than happy to accept two machines for the Downtown and South Lansing branches from HWP. It's an ideal partnership because HWP and the libraries serve similar populations and both organizations focus on equity when it comes to providing access to resources.
The next time you stop by the Downtown branch, please check out our new menstrual hygiene machine on our second floor.
To further meet the needs of our community we also provide a Community Closet in the basement, which contains other hygiene products. Members can visit the Community Closet during open library hours and grab a variety of needed items like toothpaste, toothbrushes, soap and more. If you would like to donate hygiene products for our community, please reach out to Librarian Jay Hull at the Downtown branch at hullj@cadl.org. Here's a list of items the closet is accepting. Of those items, hand warmers and shampoo/conditioner for curly hair is especially needed.
---
Melissa C., Head Librarian of the CADL Lansing libraries (Pictured left above)