The History of You
Posted on: August 17, 2018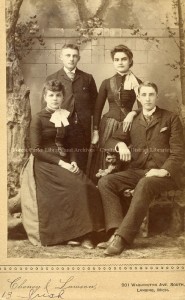 Soon after beginning my new adventure at the Leslie branch of Capital Area District Libraries, I quickly discovered that the Leslie community is passionate about two things—history and family. I share these passions, both for my own family and for family history.
When I was 12, a distant relative sent an email about my last name, Antaya. Legend and research says that the name originated with one common ancestor, Francois Pelletier dit Antaya. As a result, Antayas across the globe are related to one another.
I love learning things like that, and I know many of you share that interest. I'm happy to announce that CADL Leslie is hosting a new genealogy group called Family History Connections, held on the 4th Wednesdays of each month from 6-7 p.m. We'll share family stories and tips on how to research your own family's history.
It's should be a great summer full of family history!
Capital Area District Libraries' Leslie branch is located at 201 Pennsylvania Street in Leslie. For more information, call 517-589-9400 or visit cadl.org.
-Jeff A., Head Librarian at CADL Leslie