Get Your Game On!
Posted on: November 18, 2019
As we head into darker months and cooler weather, indoor activities are just the ticket.
Naturally this includes curling up with a good book, but your library knows that's not all there is to do on rainy nights and gray days. Nov. 3–9 was International Games Week, and CADL Mason will be your guide to the world of gaming events, rule and source materials, and the Library of Things tabletop game collection. Unplug tablets and phones and pick up something new at your library!
Tabletop Games
For tabletop fans, no need to dust off that old Monopoly box. Browse CADL's board games collection under Library of Things; check out games including three flavors of the popular Ticket To Ride. CADL's game library contains items for all ages and playstyles; some are complex, others simple, fast and fun.
Try Before You Buy
I love two-person cooperative games, and I like to play test before investing in a game for my home collection. Pandemic swiftly became a household favorite after I checked it out and played a few rounds with friends. Our catalog provides descriptions of each game as well as number of players, ages and approximate play times – very helpful when planning a game night. My next test game is Heaven and Ale, where I will lead an ancient monastery and become a master brewer; sounds like a great Saturday night to me.
Experience New Things
Role playing games are another vast and imaginative space to find your fun; some even tie in to popular shows like The Expanse. The Mason Branch has rule and source books for classics like Dungeons & Dragons, and you can explore many other worlds including the steampunk-themed RPG 1879, and sci-fi space adventurer Starfinder. Teens interested in exploring RPGs? Join us after hours from 6:15–8 p.m. the 3rd Friday of each month for CADL Adventurers Role Playing Game Club.
We look forward to helping you Game On at CADL Mason.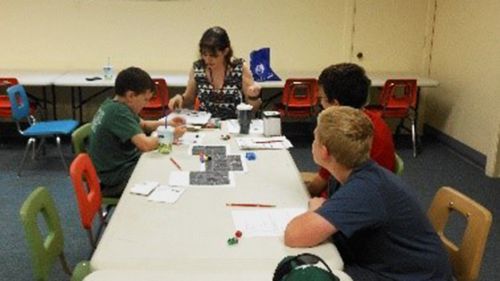 Heather G., Head Librarian at CADL Mason