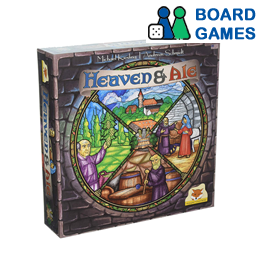 Heaven & Ale
Contents
Game Box
1 Main Game Board
20 Brown Resource Tiles (Wood)
20 White Resource Tiles (Yeast)
20 Green Resource Tiles (Hops)
20 Blue Resource Tiles (Water)
20 Yellow Resource Tiles (Barley)
24 Monk Tiles
12 Large Barrels
12 Small Barrels
49 Shed Tiles
4 Player Boards
4 Player Figures (1 in each color)
4 Brewmasters (1 in each color)
20 Resource Markers (4 in each color)
20 Privilege Cards
36 Scoring Discs
27 "1 ducat" coins
14 "5 ducat" cards
10 "10 ducat" cards
1 Rulebook
Plastic Storage Case
Overview
You have been assigned to lead an ancient monastery and its brewery. Now it's your time to brew the best beer under God's blue sky!
The fine art of brewing beer demands your best timing. In order to get the best results of your production, you have to provide your cloister's garden with fertile resources and the right number of monks helping with the harvest — but keep your brewmaster in mind as he is ready and eager to refine each and every one of your barrels!
In Heaven & Ale, you have to overcome the harsh competition of your fellow players. There is a fine balance between upgrading your cloister's garden and harvesting the resources you need to fill your barrels. Only those who manage to keep a cool head are able to win the race for the best beer!
Players: 2-4
Playtime: 60-90 minutes
Ages: 12+
Documentation
LOT Things F-L
CADL circulates many unexpected items. Many have different loan rules. See the quick details here. Item's individual pages have further details.
Library of Things (LOT)
check out for 2 weeks

ages 18+ only

must sign agreement

requires valid identification

may only check out 1 Thing at a time (may still check out other items that are not in LOT collection)

adults may check out 1 LOT Thing and 1 LOT Jr Thing at a time
LOT Jr.
check out for 2 weeks

adult and youth cards

may only check out 1 LOT Jr Thing at a time (patrons may still check out other items that are not in LOT collection)

look for the Junior tag on the image or item's page to identify
Board Games
check out for 2 weeks
adult and youth cards
Raising Reader Backpacks (RRB)
check out for 3 weeks

any age
Passes & Branch Specific
vary by pass, read pass details