Congratulations, Trent!
Posted on: March 22, 2023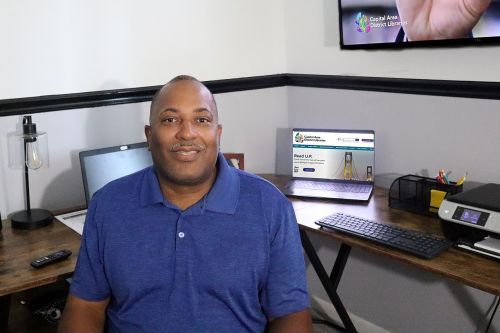 For 15 years Trenton Smiley has done a phenomenal job as CADL's Marketing Director. We wouldn't be where we are without his work. He has helped us pass our millages, moved us into digital marketing, and helped us craft our message and services for our communities. He has announced his retirement from CADL, his last official day being May 19, 2023.
"He is one of the best in the marketing field," said CADL Executive Director Scott Duimstra.
So although we are sad to see him go, we are excited to announce that he will be continuing to utilize his talents in the newly created Communications and Engagement Director position at the Free Library of Philadelphia!
"If you know me, you know I am very passionate about marketing and libraries." Said Trent, "I am humbled and honored to be entrusted to market such an iconic library system and I look forward to working alongside some of the industry's best."
The Free Library of Philadelphia is one of the largest public library systems in the world, operating 54 branches and serving as many as 6 million visitors each year. They have not had their own dedicated Communication department in many years, so Trent will be re-launching the department.
We are excited to see all the great things he has in store and wish him the best in his new endeavor!