Celebrate Library Card Sign-up Month
Posted on: August 31, 2023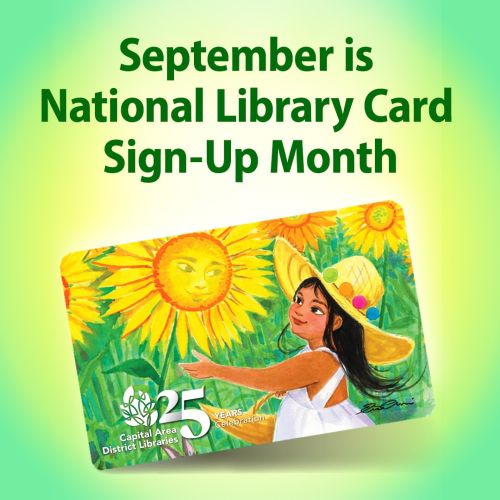 September is Library Card Sign-up Month, a time when libraries across the nation join the American Library Association (ALA) to remind parents, caregivers and students that a library card is an important first step toward academic achievement and lifelong learning.
We're joining this nationwide campaign and are encouraging you to become a CADL cardholder. And if you already have a library card, keep using it! From borrowing from our vast collection of books, movies, music, magazines and even comic books to boardgames in our Library of Things collection to attending storytimes, browsing local history archives or accessing educational resources – a library card empowers you to learn, imagine and connect.
You can start enjoying the benefits that come with a library card today by signing up online or visiting any of our 13 branches. Plus, there's never been a better time to sign up for a library card because we're running two special promotions for new cardholders. Keep reading to learn more!
CADL Board Book
Parents and caregivers who sign up children (ages 4 and younger) for a library card will receive a special edition of our board book, "Read with Me." This promotion is also available to current cardholders (ages 4 and younger). Just visit your local branch and show your card to get a free copy. *Limit one per household.
Special Edition 25th Anniversary Library Card
We've been celebrating our 25th anniversary all year long and this month is no exception. When you become a member, you'll receive a special-edition library card commemorating our 25th anniversary. The card features artwork by illustrator Elisa Chavarri from her book, "A Crown for Corina." Chavarri is a Belpre-Award Honor Recipient and Michigan resident who also illustrated our Kidsmobile. The special-edition library card is also available to current members upon request.

Both promotions will run throughout September and are available at all CADL branches. If you sign up for a library card, we'd love to see you with your special edition library card or CADL board book! Snap a photo, post it to Facebook or Instagram and tag us at "cadlibrary."