Capital Area District Libraries receives $25,000 grant for digital inclusion project
Posted on: October 19, 2020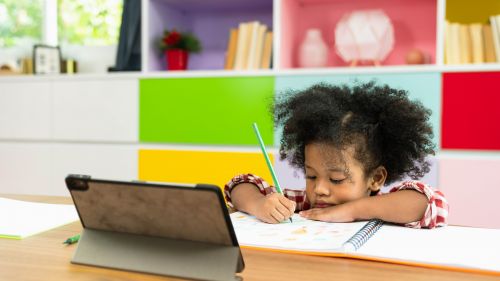 We are pleased to have been selected for a $25,000 Library Improving Access to Information grant from the Institute of Museum and Library Services.
The grant will be used to fund a "Digital Inclusion Through iPad Kit Lending" project, which includes adding iPad Kits to the popular Library of Things collection. The iPads will be loaded with a selection of apps focused on a variety of school subject areas and productivity.
The goal of this project is to expand digital inclusion for library members. Jessica Goodrich, CADL's Library of Things and Business Outreach Librarian, explains that many Ingham County residents have little or no access to reliable internet service, or to digital devices.
"The COVID-19 crisis has exacerbated this divide and created additional barriers," she explains. "This grant will allow CADL to alleviate some of those barriers. The iPad kits offer free internet as well as access to apps that encourage education, digital collaboration, and participation."
Staff plans to promote the kits through events and agencies specifically targeted toward low-income residents, reaching out to those who are most in need. Kits can be borrowed by adults who have a CADL card.
The Improving Access to Information grant program is intended to help Michigan's public and academic libraries provide improved access to collections in one of three areas; literacy, local history or special collections; and services to community users with limited online access, e.g. improving equity through digital inclusion. This project is funded (in part) with a Library Services and Technology Act grant from the Institute of Museum and Library Services administered by the Library of Michigan.
---
The Institute of Museum and Library Services is the primary source of federal support for the nation's libraries and museums. We advance, support, and empower America's museums, libraries, and related organizations through grantmaking, research, and policy development. Our vision is a nation where museums and libraries work together to transform the lives of individuals and communities. To learn more, visit www.imls.gov and follow us on Facebook and Twitter.