CADL Announces New Project with WKAR
Posted on: September 29, 2022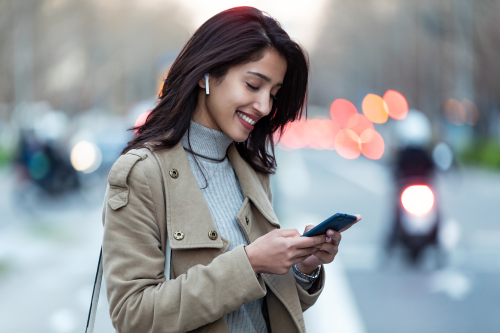 Beginning Friday, Oct. 7, Capital Area District Libraries (CADL) will become the sole underwriter of WKAR's Spanish-language news podcast, titled "¿Qué Onda Michigan?" ("What's Up Michigan?").

"¿Qué Onda Michigan?" is a weekly podcast hosted by WKAR's Bilingual Latinx Stories Reporter Michelle Jokisch Polo and it's the only show of its kind in Michigan. During each episode, Polo reports the week's top headlines that focus on the people and issues most important to Michigan's Latinx community.

Over the next 13 months, we will have a consistent presence on the podcast and listeners will hear special episodes about library services, including our Student Success Initiative, Library of Things, language and digital collection and more. There will also be a special holiday storytime episode on Friday, Dec. 23.

"At Capital Area District Libraries, we continually search for avenues that allow us to reach all members of our communities," said CADL Marketing Director Trent Smiley. "That's why we are thrilled to join forces with WKAR to develop specially curated episodes for Michigan's Latinx community and inform them that we're here to help them learn, imagine and connect."

New episodes of "¿Qué Onda Michigan?" are available on Fridays at 3 p.m. and our special episodes will air once a month beginning Jan. 7. The podcast is available on WKAR's website, and it also airs on Saturdays at 9:45 a.m. and Sundays at 8 a.m. on 870 AM and 102.3 FM.

"Partnering with Capital Area District Libraries is a natural fit for WKAR, and we're excited to present this new podcast series to our listeners," said WKAR Senior Director of Broadcast Operations Drew Henderson. "We believe that educating our listeners about CADL's resources will help us in our mission of connecting people to powerful ideas that inspire personal growth, exploration of our world and positive change."

This new project is just one of the ways we're strengthening our commitment to be more inclusive. We currently offer world language collections at each of our branches, which allows ESOL patrons to read books in their native language. With time, we expect the collection to grow and encompass even more languages.

Patrons also have the opportunity to learn and practice their English, both virtually and in person, at our language programs. Additionally, our members have access to online tools that can help them learn a new language, including Pronunciator and Read It!. We've also compiled a list of opportunities in the Lansing area where our members can learn and practice their English language skills.

Learn more about our language programs, online tools and other resources at cadl.org/languages.