Building STEAM and Building Partnerships
Posted on: February 7, 2022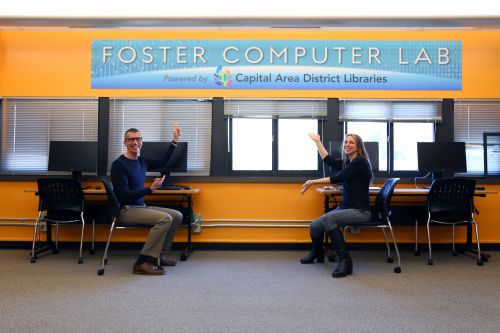 In January we had a ribbon cutting for our new space Foster Labs, located at the Foster Community Center in rooms 111 and 110. Foster Labs is a partnership between the City of Lansing and Capital Area District Libraries.
The new lab was formerly occupied by ITEC an organization that used to provide STEAM programming to students in the Lansing area. When ITEC dissolved the City of Lansing approached CADL about filling the hole.
CADL has the tools, resources, and knowledge to continue STEAM programming for students. We also plan to expand beyond students and provide learning opportunities for seniors and adults at Foster Labs. This is an exciting opportunity for the City, CADL, and the community!
Currently, we have fun programs like Breakerspace, Open Computer Sessions, and Minecraft Mondays. We have a lot of plans programming and the space in the future; like computer classes, coding classes, and Job Help. Check out our events on the website to see all the great programs we have to offer.
---
Melissa C., Head Librarian of CADL Foster