2020 Michigan Library Award Winners Announced
Posted on: October 29, 2020
Three of the leading statewide library advocacy and service organizations - The Michigan Library Association (MLA), the Michigan Association for Media in Education (MAME), and the Michigan Academic Library Association (MiALA) are pleased to announce the recipients of the 2020 Michigan Library Awards.
What are the Michigan Library Awards?
The Michigan Library Awards are awarded annually and are considered the state's highest honors within the library community. The eleven awards celebrate the excellence, accomplishments, dedication and service of library staff, trustees and supporters in the Michigan library community.
The 2020 honorees were unveiled on Thursday, October 29 during the Michigan Library Awards virtual award ceremony broadcast on Facebook live. Author and musician Wesley Stace hosted the event, with a special guest appearance by Governor Gretchen Whitmer. The library community is proud to announce the winners of the Rising Star, Frances H. Pletz Award for Excellence in Service to Youth, Heart of a Champion, Library Support Staff of the Year, State Legislator of the Year, Federal Legislator of the Year, Public Librarian of the Year, Academic Librarian of the Year, Citation of Excellence, Above and Beyond, and the Lifetime Achievement Award.
Each recipient was chosen through peer review for their outstanding achievements within specific categories. We're proud to announce that CADL's very own Collection Development Specialist Jessica Trotter was awarded Public Librarian of the Year!
PUBLIC LIBRARIAN OF THE YEAR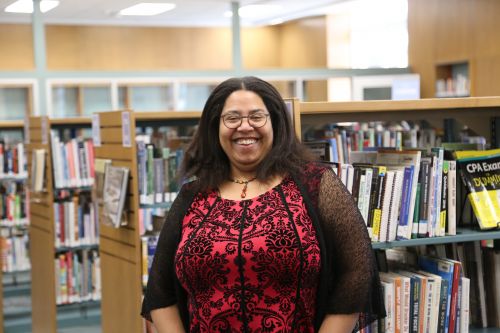 The Public Librarian of the Year Award recognizes outstanding library professionals that inspire people, provide innovative library service to their community, promote collaboration among libraries, and show evidence of personal and professional achievement as well as initiative and creativity.
"Jessica is an amazing resource to CADL, the community it serves, and both the statewide and national landscape of Readers Advisory and collection development services," stated Scott Duimstra, Director of Capital Area District Libraries. "She is a humble and dedicated leader, serving on the Board of Directors for Library Reads, and has chaired the MLA Fantastic Fiction group, the MCLS Overdrive Consortium Committee overseeing and spearheading collection growth from 1.4 million checkouts in 2017 to over 2 million in 2019."
Collaboration at Work
"These award recipients represent some of the most outstanding individuals in the Michigan library community," said Deborah E. Mikula, Executive Director of the Michigan Library Association. "In the past, the three host organizations have worked independently, but this year, our united efforts have added a whole new dimension to showcasing exemplary library staff from all library types. We couldn't be prouder of the collaboration."
---
This information was provided by the Michigan Library Association. Read more about the awards and awardees here.