Believe Me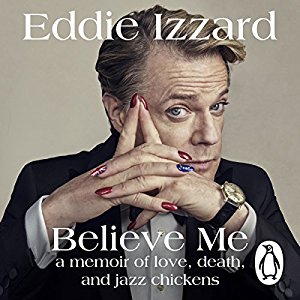 Type: Audiobooks
By: Eddie Izzard
Age Category: Adults
Genre: Biography & Memoir
Recommended by: Jessica T.
ISBN/UPC: 9781101924952
Check Catalog
Comedian, Actor, Activist... and future MP?
If you enjoy Eddie Izzard's rambling and offbeat comedy, you'll enjoy this book.This autobiography chronicles Izzard's young life including the death of his mother when he was six which led to growing up in boarding schools, to his decision to be an entertainer, running 27 marathons in 27 days for Sport Relief in South Africa in 2016, and through Brexit and the Trump election. It's an interesting and fun look at a someone identifying as a transvestite and transgender, an atheist and a major supporter of the Labour party with an eye for eventually running for a seat in the UK Parliament.
Warning: there are fabulous extra (long and rambling) footnotes in the audio version which definitely added to the length.