You Voted! CADL Announces 2020 Capital Area One Book Pick
Posted on: June 4, 2019
I was thrilled to see There There by Cheyenne and Arapho author Tommy Orange win the community vote for our next one book! This beautifully written and carefully constructed debut novel focuses on the lives of urban indigenous peoples grappling with the complex history of Native Americans—including a profound spirituality and the effects of poverty, addiction, abuse and suicide. It follows 12 distinct, but interconnected, characters as they all prepare for the inaugural Big Oakland Powwow in Oakland, California. They include Orvil Red Feather who taught himself traditional dance in secret through YouTube, his great aunt Opal who is just trying keep Orvil and his brothers on the straight and narrow, Edwin Black is looking for the father he's never met, and Dene Oxendene is trying to record their varied stories.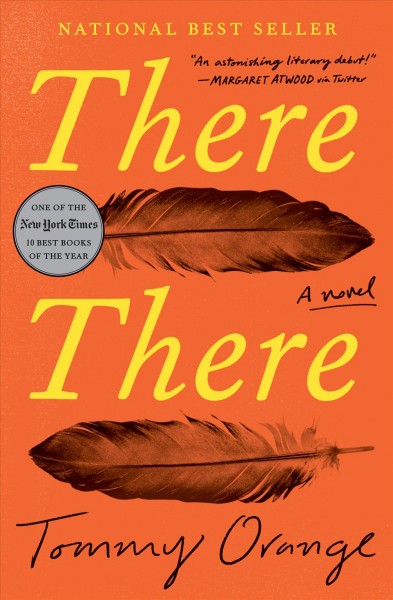 The title is a play on a Gertrude Stein quote "There is no there there," lamenting that the Oakland of her youth was almost unrecognizable. Orange extends this to the plight of indigenous people today trying to find their space in a world that is so very foreign to the world of their ancestors. The novel also brings home the fact that the Native community does not have one single shared identity. There There is breathtaking, complex, and haunting look at contemporary urban Native life.
There There was a finalist for the 2019 Pulitzer and The Andrew Carnegie Medal For Excellence in Fiction and won the National Book Critics Circle Award and the 2019 Hemmingway Foundation/Pen Award, not to mention making a stunning array of "best" lists at the end of 2018. Also, avid listeners should note that it also made the shortlist for the 2019 Audie Award for Multi-voice production.
Our one book programming will start up in the winter with book discussion and other related events, all culminating with an author visit in April 2020. You can get ahead of the game by picking up There There from your branch or on Overdrive.
Happy Reading!
Jessica T., CADL Administration Collection Development Specialist