Stories at the Farm
Posted on: August 1, 2022
A pop-up storytime is when a librarian brings all off the books, puppets, and instruments they would have inside the library for a storytime, out somewhere new and fun and where you don't expect a storytime to take place. Usually they're at parks or businesses, but this year we thought we'd try something a little different.
You may have seen us two librarians - one from Webberville, one from Williamston - schlepping our tools of the trade up and down the countryside and performing pop-up storytimes at local farms.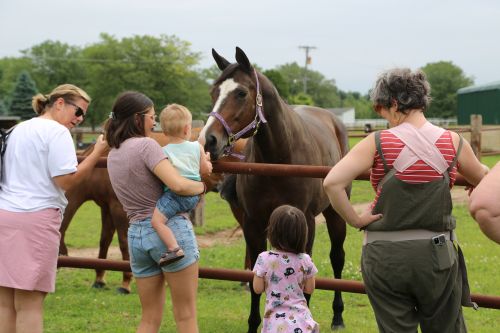 The first storytime was at Northfork Horse Farm. Nestled in their scenic horse pastures, children listened to stories and songs about horses, with a few snorts and neighs from live horses. They learned fun words like palomino and appaloosa and at the very end, Christie Showerman, the owner of Northfork, then welcomed children to pet the horses.
Next stop was the Ocimeae Lavender Farm. Under the shade of an ancient-looking tree, kids listened to books about the sense of smell. The owner, Marilyn Smith, gave the kids each a sachet of lavender and answered their pressing lavender questions. You might not think that'd be a lot, as I did, but we have quite a little generation of aspiring botanists in our midst.
The Diederichs of Diederich's berry farm invited us into their own backyard for a special storytime at the tail end of strawberry season. We read about all kinds of berries and at the end Denise Diederich fed us the very last good strawberries of the season she had picked that day and raspberry lemonade.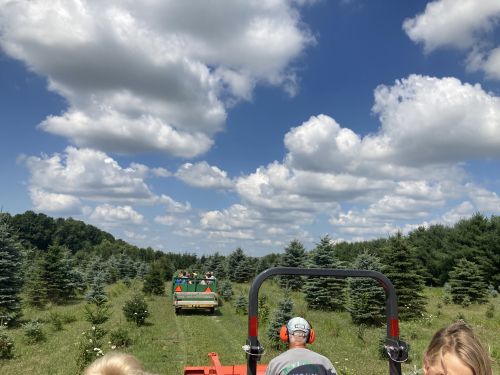 The next storytime was at Peterson's Tree Farm. Families were welcomed by Eric Peterson and his son, Brian, but also a very special guest, the man himself, Santa Claus. Santa wore a Hawaiian shirt, as it's his off-season, and joined in for a special Christmas-in-July storytime. At the very end, we went for a tour of the tree farm and Eric demonstrated how they sheer the trees with a machete to make them the perfect Christmas tree shape.
Our final stop was at Floweressence, LLC at Blue Barn Farm in Williamston, where we read books all about flowers. Afterward, the owner, Mr. Epley, gave us a tour of the farm on foot. He showed us the greenhouses, let the kids pick apples, say hello to the chickens and Floyd the donkey, and gave each kid their own bouquet of flowers!
Looking back at all our pop-up storytimes this summer, it reminded me of that part in episodes of Mr. Rogers' Neighborhood where he would take kids to different places in their neighborhood. Sometimes it was to show the workings of a crayon factory or to see what the postman does. Similarly, it was a pleasure to invite our Webberville children out into their world so they could witness for themselves what a wonderful community of farmers live and work around them. It's not every place where a live horse or a tractor might star in a storytime, but that's how we do it in Webberville.
---
Amanda Vorce, CADL Webberville Head Librarian
Follow CADL on TikTok to see videos at the farm!