Sally Meitz Receives Director's Award
Posted on: April 2, 2021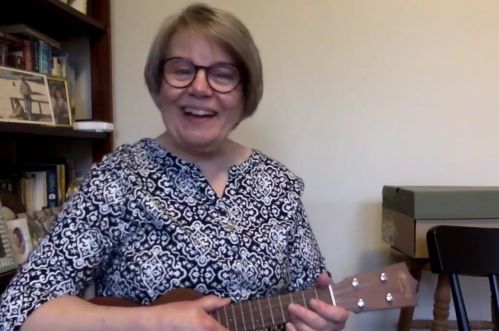 I'm pleased to give the March Director's Award to Sally Meitz, library assistant at the Dansville Branch. Since 2020, our pivot to virtual programs and storytimes has been very successful. Part of this success is due to Sally's virtual programs. She has added her own twist to her virtual storytimes by having a science focus, which is great for families incorporating science into their child's learning. Also, this focus fits within CADL's goals and strategic initiatives. Along with this, Sally has a great attitude and approach to her work. This is what Lynn Harper, head librarian of CADL Dansville, had to say about Sally:
"Sally has stepped up to take on some new projects over the past year. She provides a virtual science storytime that is really fun and appeals to older kids. This week she volunteered on short notice to cover an additional virtual storytime and tied it into the presidential inauguration. She puts a lot of effort into the Storytime to Go kits and comes up with creative crafts, and we have families who request them regularly. This year she is putting more consideration into the books she selects for her storytime lists to make sure that diverse authors and experiences are represented."
As you can see, Sally truly enjoys her position and excels at finding new and creative ways to engage with our members. Sally, thank you so much for all that you've done for Dansville and for CADL. We're lucky to have you as a CADL employee.
Thank you,
Scott Duimstra, CADL Executive Director