Partnership with MSU Class Provides Educational Experience
Posted on: July 13, 2019
We had the unique opportunity to pose as a client for Michigan State University Professor Dr. Kononova's Digital Analytics class as part of the MSU College of Communication Arts and Sciences. Students learned about the tools to collect and analyze digital data. The students then teamed up and were tasked with using this new-found knowledge and data provided by CADL to create a helpful digital strategy.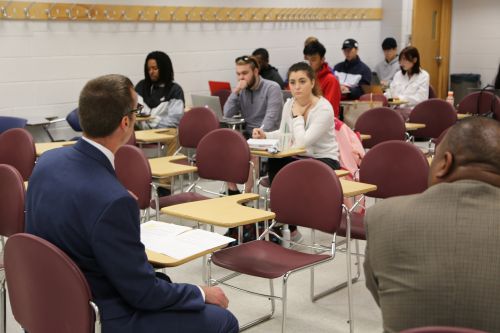 Executive Director Scott Duimstra, Marketing Director Trent Smiley, and Online Content Coordinator Cassidy Gould visited the class in May to give them an idea of CADL's goals as an organization. The in-person visit also gave students a chance to learn things about CADL they may not find on our website – such as challenges we may face in our pursuit to reach those goals.
One of these challenges is reaching teen and young adult members of the community – A challenge directly in their wheelhouse as young adults themselves! After an insightful round of questions, we left them to their work for the remainder of the course.
At the end of the course we listened to each group's digital strategies and chose a group as a winner to receive full points on their work. We were blown away by the great work done by the students, and thankful for the mutual learning experience the class provided.
Taking new opportunities to learn and grow is important, which is why we provide valuable online learning tools and subscriptions with a CADL membership. You can find thousands of great lessons on digital marketing, design and more with our LinkedIn learning resource lynda.com and other great services.