Getting Kids Engaged with Reading
Posted on: September 1, 2022
How do you get kids engaged with reading?
First, it helps to move your library into the school building.
Then you give them some friendly competition! The Williamston 7th graders once again had the opportunity to compete in a trivia competition centered around books. A training montage wasn't in the budget, so you'll just have to imagine it.
Europe's "The Final Countdown" plays in the background as the students rush to their friends and form their teams. Their brows furrow in concentration as they pour over the four books on the reading list, snacking, high-fiving, and maybe falling asleep on a book or two along the way. Finally, the day arrives, and they take their places in the library. Their heads held high, glances of comradery darting across the room, ready for the Battle of the Books.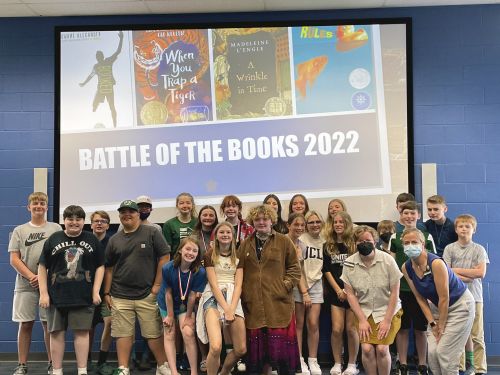 With a win of 33 out of 36 questions, Ellie, Addie, and Penelope went home with prize certificates, medals, and gift cards to Schuler Books. But the other participants didn't study in vain – Everybody was rewarded with a pizza party! A taste perhaps as delicious as that of victory.
The Battle of the Books has been a great way for the library to collaborate with the middle school. We would like to thank the 7th grade ELA teacher, Michele Ellis, for her assistance in getting this event back up and running after a two-year break. This was an amazing chance for students to show off their trivia skills, and it turned the normally solitary act of reading into a friendly competition. CADL Williamston is looking forward to continuing the Battle of the Books for many years to come!
The books for the 2022 competition were Booked by Kwame Alexander, When You Trap a Tiger by Tae Keller, A Wrinkle in Time by Madeline L'Engle, and Rules by Cynthia Lord.
---
Julie C., CADL Williamston Head Librarian