Changes
Posted on: July 29, 2019
As I wind up my first few weeks as the new Head of Mason, I'm reminded of how libraries truly embrace change. Change is scary and exciting. Change is energizing and exhausting. Change is necessary. Changes is a great David Bowie song.
Changing location meant learning the ins and outs of this charming and labyrinthine building. Happily, if I get lost, help is only a shout away! So far, I have counted six staircases and I fully expect to stumble across more. I stopped counting doors at fourteen but if I find a wardrobe, I'm going in for sure.
At CADL, we wear many hats and change them often. In my first weeks, I dusted off rusty skills (with the help of patient staff) and I'm starting to feel as useful as a bee in the Thornapple Woodlands hives. Their visit was amazing and fun, and I took mental notes on how a good hive works together.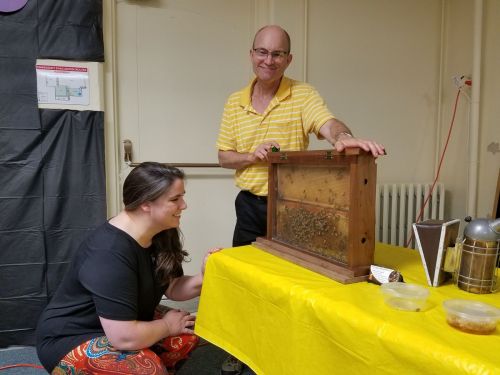 Photo: Katie Phillips meets a Queen Bee.
Changing colleagues is bittersweet; I am missing my folks at Downtown and Administration – but happily, CADL is a connected system and we're all just an IM or phone call away. And change can help us appreciate each other: I see sparkling enthusiasm from our pages ensuring everything is just so, excitement from our smallest members searching for Waldo, and the bittersweet moments as our Karen Oswald closes the books on a long career.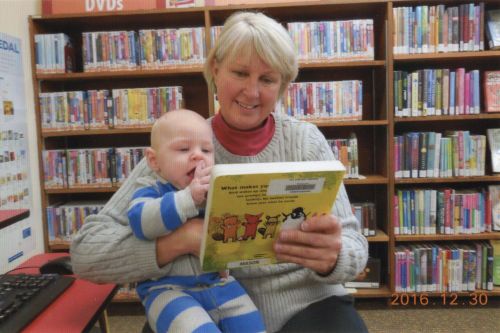 Photo: Karen Oswald, on to new adventures.
I'd like to thank all the staff and members at Mason for making my first weeks a breeze and leaning in to change.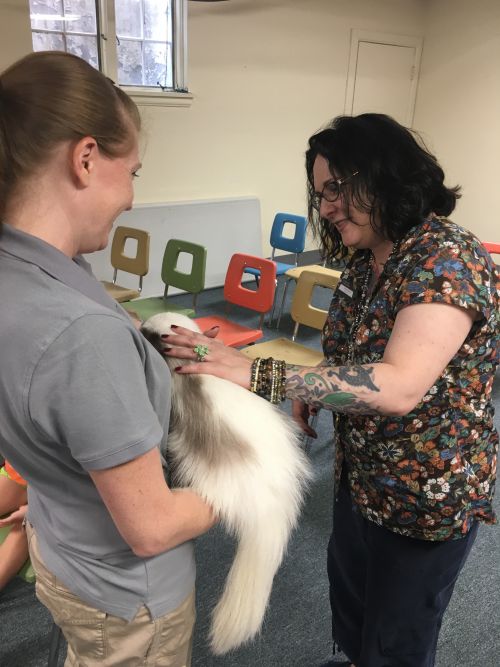 Photo: Heather makes a new friend.
Heather G., CADL Mason