2019 State Librarian's Award Acceptance Speech by Scott Duimstra
Posted on: October 17, 2019
2019 State Librarian's Award Acceptance Speech by Scott Duimstra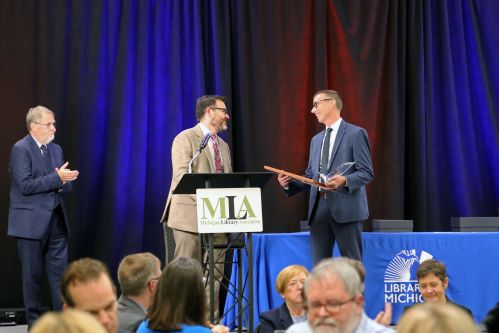 On behalf of the Capital Area District Libraries, it's truly an honor to be recognized with the State Librarian's Excellence Award...
Our mission statement is: Empowering our diverse communities to learn, imagine and connect.
The empowerment portion of that mission is one we take very seriously. It is in every part of our organization because we know that every service, program or idea that we start at the library isn't done in a silo.
If we want to empower our communities, it takes all departments and staff at all levels to succeed. Our public service staff, technical service staff, marketing staff, I.T., facilities, H.R. staff, management and admin, library board....
All of us set the tone and help guide and make the organization's culture. We don't have a closed organization. Instead, we have one that lets you be innovative, daring and also welcoming and caring.
I wanted to end by sharing a section of a letter of support, written by one of our patrons, that shows the empowering services and culture that CADL exemplifies:
"These programs alone make the Capital Area District Library stand out, but it is the thoughtfulness and care shown in the staff that has made it a second home to our family. The library staff regularly greet my children and me by name. As a mother to young rambunctious children, I especially appreciate the grace the staff afford us in our sometimes-chaotic moments. More than once I have been given a reassuring smile as I had to chase my twin toddler boys around the hold shelves, or a staff member has sought me out in the children's section to give me back one of my child's drawings that I had mistakenly placed at the desk in a stack of returns. I can't fully express how meaningful it is to feel so welcome and embraced. Beyond the love of reading and exploration that the Capital Area District Library has instilled in my children (and quite honestly, me), it has become a place where we feel connected to our family, friends, and community. I cannot say enough good things about the library itself and the people who work there."
It's words like these that let us know we're on the right track as a library system, and the State Librarian's Excellence award gives us assurance and recognition that will help bolster us as we continue to empower our communities.
So, on behalf of the staff, board and patrons of the Capital Area District Libraries, I want to thank Roger Mendel for the Roger and June B. Mendel Fund, the State Librarian Randy Riley and the Library of Michigan Foundation. It's truly an honor to win this award. Thank you.