25-Year Celebration
A Message from Executive Director Scott Duimstra
F
or 25 years, Capital Area District Libraries (CADL) has worked to empower our diverse communities to learn, imagine and connect. Our collective mission is to enrich lives by providing access to a wide range of materials, programs and resources that encourage literacy and lifelong learning. This mission, for the past 25 years, has fueled hundreds of programs, initiatives and partnerships that have shaped us into the organization we are today. This success is only possible because of the support we've received since opening our doors in 1998. This webpage features a brief history of CADL and, throughout the year, we will update the webpage to include special projects and programs in celebration of our 25-year anniversary. We invite you to celebrate with us and join us as we revisit pivotal moments in our history.
---
CADL's Historical Timeline
We've gathered significant moments throughout CADL's 25-year history and compiled them into a historial timeline. Click here to view the timeline or click the image below. *The timeline is for general purposes and guidance only. Every reasonable effort has been made to ensure its accuracy.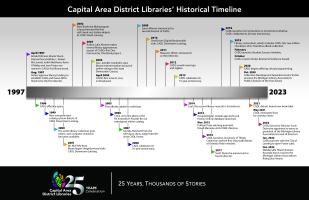 ---
Special Events
Our 25th anniversary calls for celebration, and you're invited! Click here to view our 25th-anniversary events.
​​​​​​​
---
Photo Albums
From author visits to celebrity events and everything in-between, we've captured a lot of special moments at CADL. Click through the photo albums below to see some of our favorites.