CADL Reopening Information
Posted on: June 23, 2020
---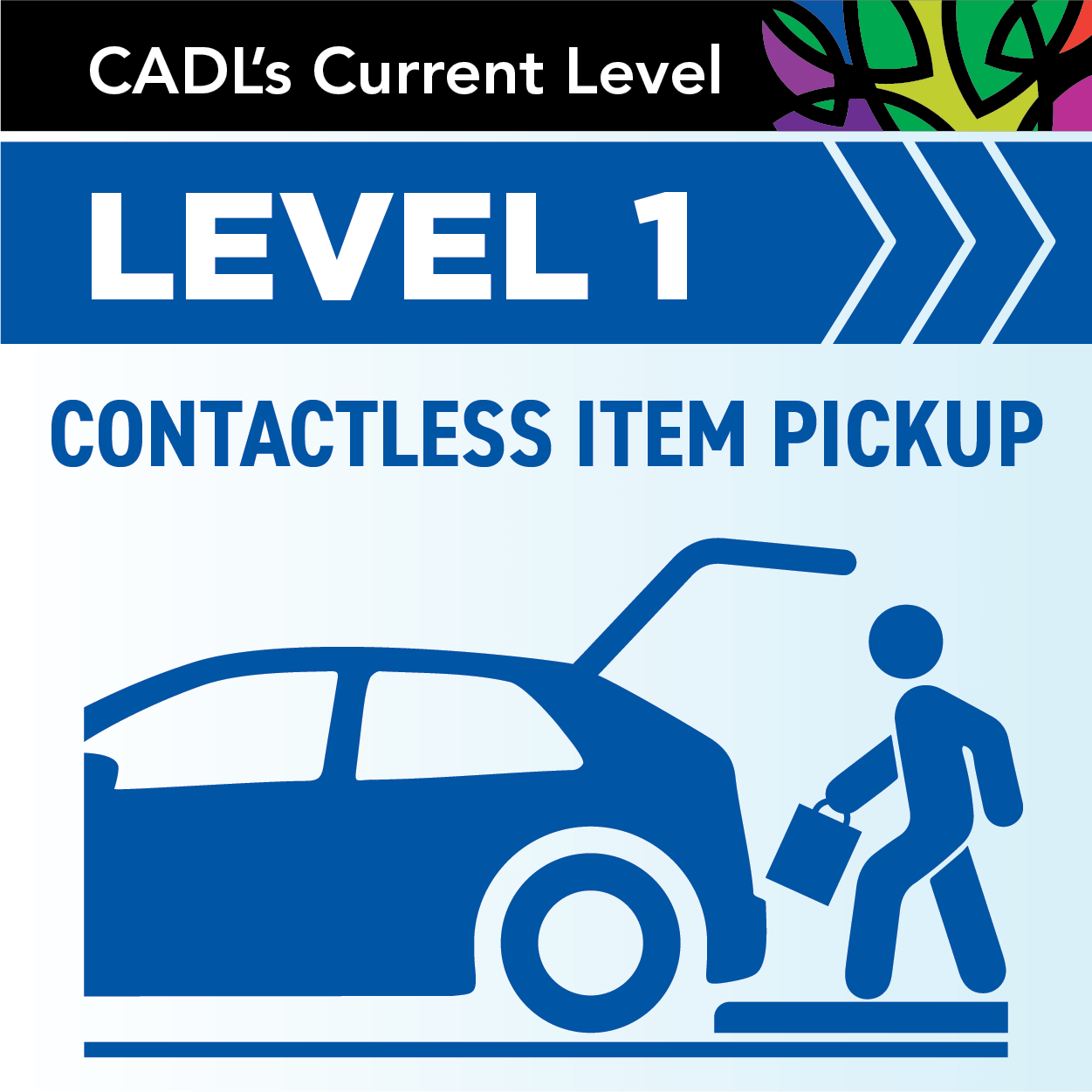 Through these challenging times, Capital Area District Libraries has remained committed to providing high quality services that are safe for both staff and members.
We are now moving gradually through several levels, starting with contactless service and ultimately ending with our in-branch services. Dates for moving to each level will be fluid, based on current health conditions and guidelines from the Governor's Office and the Center for Disease Control and Prevention. Here are our services and procedures for the first level. Details about Levels 2 and 3 will be shared as we transition into them. View our COVID-19 Preparedness & Response Plan.
---
RETURNING ITEMS
Currently, all drop boxes are open at all CADL branches.
Returned items will be quarantined for at least 96 hours and may take up to a week to be checked in. Items will not clear from accounts until they are checked in but fines will not be charged for time spent in quarantine.
Read more about why this measure keeps items safe for both staff and members.
Hotspots and passes can be returned via drop box, but for all other Library of Things items call your branch or use MyTime to schedule a drop-off time.
---
PICKING UP ITEMS
We are currently offering contactless item pickup.
This service is an easy and safe way for you to pick up library items, information and tax forms at all CADL locations and the Mobile Library. Here's how it works:
Place holds in the catalog. Visit cadl.org/catalog to place items on hold, indicating the branch location for pickup. You may also call your branch to request items. Please have your CADL card information available. First time placing a hold? Check out these instructions.
(NOTE: You may place holds on hotspots and passes, but no other Library of Things items will be available for holds at this time. The circulation of board books has also been suspended until further notice. If you currently have a Library of Things item on the holdshelf, your name will still be at the top of the list when those items can be checked out again.
Schedule a pickup time when your items are ready. You will receive a notice via email, text or phone call that it's time set up an appointment for pick up. Our new MyTime Service allows you to schedule your pickup time online. Or call your branch to make the appointment and be sure to have your card information available. You will receive specific instructions for how and when to pick up your items.
Arrive at your appointed time. When you arrive, call the posted number to let us know you are here.

For branches with curbside pickup, staff will bring items out and place them in your trunk
For branches with door pickup, staff will place your bagged items on a table. The bag will have a hold slip with your code printed on it. Please remain six feet away from any staff or other members when picking up your items.
---
PRINT FROM ANYWHERE
With a digital device you can send a document to a printer at the Downtown Lansing, South Lansing or Okemos branch, then call for an appointment to pick it up there, free of charge. Find instructions here.
For questions please call your branch or use the contact or chat features on our website.
MyTime
Use our new MyTime service to schedule an appointment at any CADL branch. During Level 1, place holds in the catalog and when they are ready for pickup, use MyTime to schedule contactless item pickups. As we reopen, more services will be added.
Begin by choosing the library where your holds are ready.