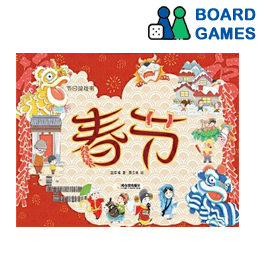 Chinese Festivals Jiérì yóuxì shū
Contents
Outer folder, containing:

Book A, contents:
Book B, contents:
Book C, contents:
Book D, contents:

7 sheets
9 puzzle pieces
3 plants
3 dragonflies

Book E, contents:

Carrying Bag

Overview
这是一套专为6-12岁孩子打造的节日游戏书,用游戏解读中国传统节日,辅以节日介绍和节日传说。全套共5册,一册一个节日主题,配合精美的插图设计,将中国传统文化渗透到一个个有趣的游戏关卡中,让孩子边玩边学,手脑并用,发现"中国传统文化之美"。 图书选取中国传统节日春节、中秋节、端午节、元宵节、清明节相关内容。游戏以风俗为内容依据,根据不同的风俗设定游戏内容,游戏的形式以传统的益智游戏为主,形式多样。
《春节》分册内容选取贴春联、祭灶王、扫房子、接财神、压岁钱等习俗,用走迷宫、找不同、贴纸等互动形式展现。
《元宵节》分册选取分汤圆、逐鼠、猜灯谜等习俗,用算数、迷宫、谜语等形式展现。
《清明节》分册选取踏青、斗鸡等习俗,用走迷宫、找不同等形式展现。
《端午节》分册选取戴香包、包粽子、吃"五黄"等习俗,用辨食材、辨颜色等互动形式展现。
《中秋节》分册选取玩兔爷、放孔明灯、吃月饼、赏桂花等习俗,用找不同、识字、绘画等形式展现。
Titles:
Spring Festival 春节
Lantern Festival 元宵节
Ching Ming Festival 清明节
Dragon Boat Festival 端午节
Moon Festival 中秋节
This is a set of holiday game books specially designed for children aged 6-12. It uses games to interpret traditional Chinese festivals, supplemented by festival introductions and festival legends. The whole set consists of 5 volumes, each with a festival theme, with exquisite illustration design. Please note: All parts of this game set are written in Simplified Chinese.
Titles:
Spring Festival
Lantern Festival Lantern Festival
Ching Ming Festival Qingming Festival
Dragon Boat Festival Dragon Boat Festival
Moon Festival Mid-Autumn Festival
Additional Information
LOT Things A-E
CADL circulates many unexpected items. Many have different loan rules. See the quick details here. Item's individual pages have further details.
Library of Things (LOT)
check out for 2 weeks

ages 18+ only

must sign agreement

requires valid identification

may only check out 1 Thing at a time (may still check out other items that are not in LOT collection)

adults may check out 1 LOT Thing and 1 LOT Jr Thing at a time
LOT Jr.
check out for 2 weeks

adult and youth cards

may only check out 1 LOT Jr Thing at a time (patrons may still check out other items that are not in LOT collection)

look for the Junior tag on the image or item's page to identify
Board Games
check out for 2 weeks
adult and youth cards
Raising Reader Backpacks (RRB)
check out for 3 weeks

any age
Passes & Branch Specific
vary by pass, read pass details