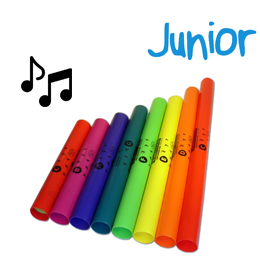 Boomwhackers
Contents
8 Boomwhacker Tubes
8 Octabator Tube Caps
2 Mallets
1 Carrying Bag
Instructions
Overview
The bestselling Boomwhacker C- c diatonic plus octavator caps set will take your Boomwhacker activities to the next level. Found in most elementary music classrooms and music therapy programs around the world, these affordable, color-coded, tuned percussion tubes provide an opportunity for anyone to experience success making music. With no limit to the creative learning process, students can feel the joy of learning and experiencing rhythm, pitch and movement while having fun!
Set includes all 8 pitches from C to c on a diatonic scale (white keys on the piano). The included octavator caps lower the pitch of a Boomwhacker by an octave when placed on one end expanding your range of sounds!
Each person holds one or two of these percussion tubes and whacks them against his or her arm, thigh, or any hard surface to produce the sound. The gradations in length of the tubes help players arrange themselves in sequential notes and understand the relationship between length and pitch; similarly, the color gradations provide an additional way to visualize the sequence of notes and an understanding of the spectrum. Art and music converge, and groups that cooperate well can make beautiful music together. Tubes are 12" to 24" long."
Documentation
LOT Jr. Pieces
We know that our LoT Jr. Things often contain many small pieces. Please don't let a small missing piece stop you from returning an item, CADL often has small replacement parts and replace with no to minimal charge.
LOT Things A-E
CADL circulates many unexpected items. Many have different loan rules. See the quick details here. Item's individual pages have further details.
Library of Things (LOT)
check out for 2 weeks

ages 18+ only

must sign agreement

requires valid identification

may only check out 1 Thing at a time (may still check out other items that are not in LOT collection)

adults may check out 1 LOT Thing and 1 LOT Jr Thing at a time
LOT Jr.
check out for 2 weeks

adult and youth cards

may only check out 1 LOT Jr Thing at a time (patrons may still check out other items that are not in LOT collection)

look for the Junior tag on the image or item's page to identify
Board Games
check out for 2 weeks
adult and youth cards
Raising Reader Backpacks (RRB)
check out for 3 weeks

any age
Passes & Branch Specific
vary by pass, read pass details