Operation Backpack!
Posted on: August 20, 2018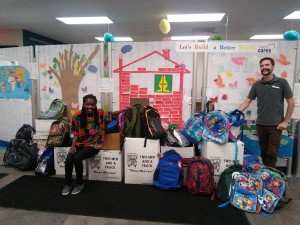 As a child, going back to school became an adventure for me every year. Fresh new pencils in a shiny pouch, stacks of lined paper waiting for my lopsided handwriting, and lunch boxes that had yet to be stomped on, destroyed or lost all. All of these items whispered promises of adventure; the excitement of new friends, an opportunity to star in a school play, and maybe finally a chance to win a raffle prize at a school fair!
Well, CADL can't really rig school raffles, but we CAN still make the start of school feel a little bit like an adventure for kids. And you can join us and be a part of that too! Every year, CADL partners with St. Vincent Catholic Charities and various other organizations to bring school supplies to children in the St. Vincent service area. Through Operation Backpack, children are provided with the tools they will need on their educational journey; new backpacks, colored markers, highlighters, paper and many other items essential for all their coming adventures.
Drop off your contribution to "Operation Backpack" from June 18th through the month of August at these libraries:
CADL Downtown Lansing
CADL Haslett
CADL Okemos
CADL South Lansing
Items Wanted:
New backpacks
Spiral notebooks
Pocket folders
Lined notebook paper
Colored markers
Colored pencils
3-ring notebooks
-Denelle H., Circulation Clerk at CADL Downtown Lansing