Make Mother's Day Brighter for Moms in Need
Posted on: April 17, 2019
Movers for Moms
For several years, Capital Area District Libraries has partnered with TWO MEN AND A TRUCK on their community service program called "Movers for Moms". The program encourages community members to donate personal care and household items to women in local shelters, or in a state of need or crisis.
The need for these items is great, as 60% of adults experiencing homelessness with a family are mothers. Since "Movers for Moms" began, over 1 million items in 43 states have been collected and distributed to individuals and shelters. TWO MEN AND A TRUCK crew pick up the donations and deliver them in time for Mother's Day, striving to brighten the day for moms in need.
Here in Ingham County, 11 of CADL's 13 branches are serving as collection sites: Aurelius, Dansville, Downtown Lansing, Foster, Haslett, Holt-Delhi, Leslie, Mason, Okemos, South Lansing and Williamston. Donations can be made at any time during their open hours, now through Saturday, May 4.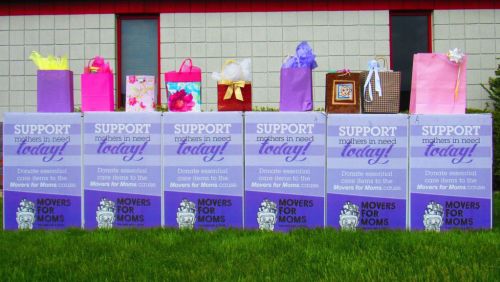 Read more about the project at Movers for Moms, or read our Needs List below:
Diapers & Pull-ups
Baby bottles (NEW)
Baby wipes
Children's clothing
Diaper rash cream
All size women's maternity and loose/stretchy fitting clothing
Socks and undergarments (Womens all sizes and maternity)
Full-size shampoo, conditioner and body wash
Pillows & Pillow covers
Twin sheets and blankets
Dish soap and other cleaning supplies
Dish towels
Bleach & disinfectant spray
Laundry baskets
Bath towels (all sizes)
Laundry detergent
Paper towel & toilet paper
flashlights and batteries
Cooking oil