Great Reads & Grass Stains
Posted on: July 12, 2019
Seize the Summer with CADL
Even with the 4th of July in the rearview mirror, and back-to-school emails starting to fill my inbox (what?!), there is still plenty of summer left. Be sure to spend some of it enjoying a great read or a catchy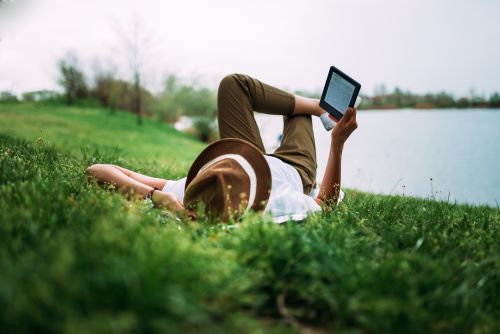 summer tune. We have everything you need to make that happen, whether you prefer to turn the pages or turn on a device.
Need help figuring out what to read, watch or listen to? Our team of literary experts is on the case. We have tons of ways of letting you know about all the best books, music and movies for summer. One of my favorites is our BookSleuth P.I. service. You simply fill out a form on our website, letting us know what your interests are. We'll reply back with a list of suggestions based on that information. Check out BookSleuth P.I.—and lots more CADL recommendation services—here.
Once you have your next great read in hand, make it count by recording the time you spend reading. You'll earn fun prizes and be eligible for drawing prizes like Biggby gift cards, movie theater tickets and Target gift cards. Our free Summer Reading program for kids, teens and adults runs though Aug. 10. Kids and teens who complete the program will be entered into a drawing for tickets to see Disney's ALADDIN at the Wharton Center.
If taking a vacation in our beautiful state is on your summer to-do list, be sure to check out the Michigan Activity Passes in our Library of Things. CADL members can borrow passes for discounted or free admissions (or other exclusive offers) to hundreds of Michigan's cultural destinations and natural attractions—state parks, campgrounds, museums, trails, cultural destinations and more.
We also have Library of Things items that will add some serious grass stains to your summer wardrobe. Adults can use their CADL card to check out a badminton set, Spikeball, Pickleball, Washer Toss, Bocce Ball and more. Browse the collection here, then get out there and seize the summer!
Scott D., CADL Executive Director