End of Summer Already?
Posted on: August 13, 2018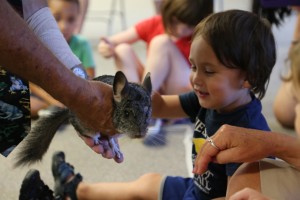 Where did the summer go? We had a lot of fun at Capital Area District Libraries' Foster branch, but now the Summer Reading Program has ended and school is about to start.
My first order of business is to thank all the voters who supported CADL in the primary election. The support was awesome and library staff looks forward to bringing you excellent collections and services for the next four years.
Next, please note that the parking lot at Foster Community Center is being repaved. (If you have been here you know that this is very welcome news!) No parking will be allowed in either lot from Aug. 15 until further notice, so plan to park on Francis Street or Foster Avenue. The library is open as usual and our drop box is still available. This will be inconvenient for a while, but the results will be worth it!
September is National Library Card Sign-Up Month, and we will be celebrating with our annual Great Library Card Extravaganza on Saturday, Sept. 15 from 11 a.m.–3 p.m. People who sign-up for a card, or current cardholders who come in and show their card, will receive a small reward and be entered in drawings for larger prizes. Wouldn't this be a good time to get library cards for your kids?
We look forward to seeing you in September as our fall programming kicks into gear. Check out cadl.org/events for a sneak peek.
Capital Area District Libraries' Foster branch is located at 200 North Foster Avenue in Lansing. For more information, call 517-485-5185 or visit cadl.org.
-Jean B., Head Librarian at CADL Foster