Easy as ABC
Posted on: August 1, 2018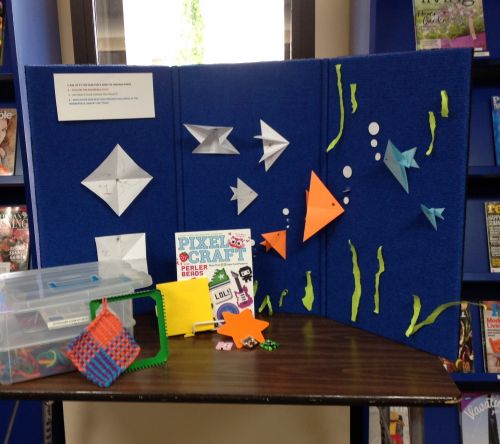 This month, Capital Area District Libraries' Webberville branch is launching a new ABC Table.
This is not "ABC" as in the alphabet. In this case, A is for Artists, B is for Builders, and C is for Creators. The table is our small version of a Makerspace, so that kids ages 8–18 have a place to work with hands-on kits and materials we provide.
The idea for the ABC Table came about when we noticed that some of our scheduled after school programs were getting harder for kids to attend. They are not always available on specific days and times. Now we can offer some self-directed activities they can do on their own schedule, during the library's open hours.
Some of the projects kids can ask to use include potholder looms, a K'nex Maker Kit, and Perler beads. K'nex creations must stay in the library, but kids get to keep the potholders and Perler bead items they create. Since Perler bead projects need to be ironed by a staff person, the finished items get picked up later by their creators.
Some items may be used by younger children if they have parent helpers. We also have a table top paper dispenser for doodlers to use. From time to time there will be simple origami projects on display that kids can try as well.
Capital Area District Libraries' Webberville branch is located at 115 S. Main Street in Webberville. For more information, call 517-521-3643 or visit cadl.org.
-Peg M., Head Librarian at CADL Webberville