Create a Holiday Craft at CADL Foster
Posted on: December 4, 2018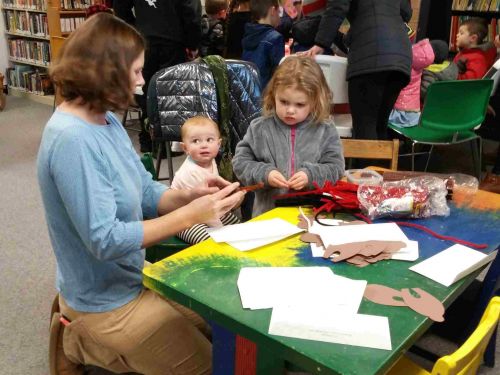 Another year has flown by! In 2018, Ingham County residents renewed Capital Area District Libraries' millage, setting us up to provide another four years of services. We've said goodbye to some familiar faces at the Foster branch, and all the children we see regularly have grown a bunch.
Looking forward, we've still got some events coming up to finish out the year. Who can't use another ornament or two to decorate for the holidays? Drop in on Saturday, Dec. 15 from 11:30 a.m.–2:30 p.m. We'll have the supplies, you bring the creativity.
Thank you, Friends of Lansing Libraries, for providing the materials.
Kids ages 1½–6 are invited to join us for Holiday Storytime on Wednesday, Dec. 19 from 10-11 a.m. We'll have seasonal stories, songs, and a craft, too.
All CADL branches will be closed on Christmas Eve and Christmas Day, plus New Year's Eve and New Year's Day. Otherwise we are open for regular hours.
With the new year it will be time to sign up for the winter session of storytimes, which will run on Wednesdays from Jan. 9–Feb. 27. We will have sessions for preschoolers (ages 3–6) and toddlers (ages 1½–3). Call us at 517-485-5185 or stop at the desk to reserve your spot. Get a schedule of all winter events at cadl.org/events.
Happy Holidays to all from the staff at Foster Library!
Submitted by Jean Bolley, CADL Foster