Check Out Stockbridge's SongLab
Posted on: August 20, 2018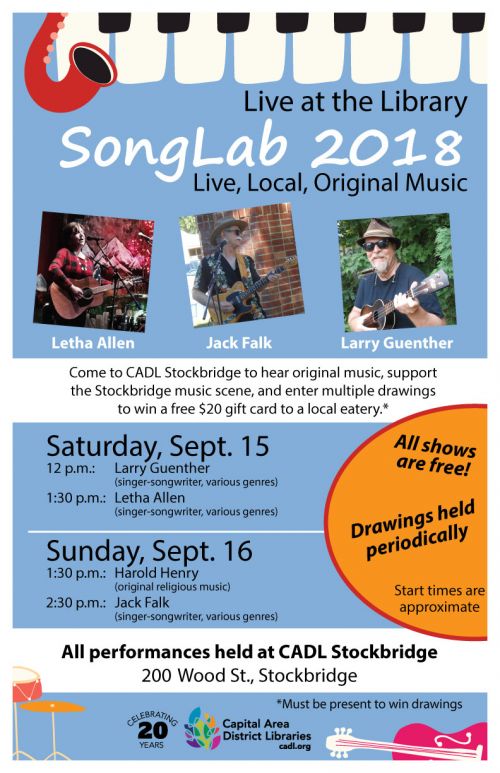 Original music by Letha Allen, Jack Falk, Larry Guenther and Harold Henry will be showcased in live performances at the Stockbridge Library, CADL, on Saturday and Sunday, Sept. 15 and 16.
Those attending the free concerts will have a chance to win free gift cards to local eateries. Performers will receive gift cards to Marshall Music and be entered into a drawing for free recording studio time at Troubadour Recording Studios in Lansing.
The performances are part of SongLab, an effort by CADL-Stockbridge to help local musicians get heard and to partner with them as they develop their careers, as well as to add locally imagined and produced content to the CADL collection. The performances will be recorded and later added to the CADL collection in CD format and streamed from the CADL website.
In a musical prelude to the event, the library is hosting an instrument petting zoo provided by Marshall Music at 6:30 pm on Tuesday, Sept. 11, and a hands-on drumming and rhythm program presented by Drummunity on Thursday, Sept. 13, at 3:30pm. Both programs are for all ages.
No strangers to the local music scene, Allen, Falk and Guenther have all performed at Cravingz Coffee House & Sandwich Shop, summer Market Music performances on the square, and other nearby and not-so-nearby venues.
Allen, Falk and Guenther play original singer-songwriter material of various genres. Henry plays original religious music.
To help practitioners develop their craft, the library has collaborated with Livingston County-based singer-songwriter Bill Nedela to produce a resource list of books, videos, groups, online classes and apps for aspiring songwriters. Copies will be available at the event or find it here.
Performances are scheduled as follows. (Start times are approximate.)
Saturday, Sept. 15: Larry Guenther at noon
Letha Allen at 1:30pm
Sunday, Sept. 16: Harold Henry at 1:30pm
Jack Falk at 2:30pm