Celebrate the Season at CADL Haslett
Posted on: October 1, 2019
Fall into Fun
Turning leaves inspire some people to cozy in with cooking and crafting while others begin thinking of Halloween and hauntings. Whatever fall means to you, CADL Haslett has a program for that! Please join us as we celebrate one of our favorite seasons.
Michigan's Haunted Lighthouses Author Visit
What is it about lighthouses that attract ghostly spirits? Dianna Stampfler, historian, author and storyteller, will share entertaining stories from the pages of her new book followed by a book sale and signing. Wednesday, Oct. 9 • 6:30–7:30 p.m.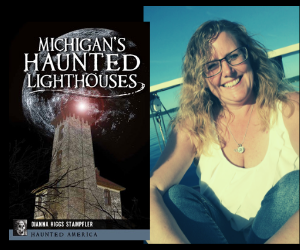 Halloween Magic with Jason Hudy
The award-winning magician returns to CADL with mind-blowing magic in a one-of-a-kind production. Wear your costume! Seating is on a first-come basis. Tuesday, Oct. 15 • 6:30–7:30 p.m.
Nailed It! For Kids (Age 8 and up)
Try your hand at making a couple of fall goodies. We supply the ingredients, you supply the creativity! Saturday, Oct. 19 • 2–3 p.m.
Drop-in Thanksgiving Wreath Craft (Age 5 and up)
Drop in to make a seasonal paper wreath of fall colors with a ribbon accent. Hang it on a door or put it on your holiday table.
Saturday, Nov. 2 • 10 a.m.–2 p.m.
Don't forget to browse our robust cookbook collection! You'll find titles like Gooseberry Patch Tasty Fall Cooking, which includes easy and delicious recipes for every occasion from tailgating to Thanksgiving!
Ann C., Head Librarian of CADL Haslett