Experts at CADL can help find the perfect book for you or your loved ones
Posted on: December 13, 2018
Over the weekend, my children experienced the childhood joy of meeting Jolly Old Saint Nicholas. My oldest son excitedly told Santa Claus what he wanted for Christmas—"a trillion books!"
I thought my son was really onto something. What gift could be more magical than a book? Books can take the recipient to mythical lands. Books can take you back in time or provide instruction on how to learn a new skill.
Librarians are always reminding people that we have books you can borrow. And sure, yes we do. But you may want to use this special time of year to gift your child or loved one with a book to keep. They take up less space than toys, instill a joy of reading, and most of all they can be enjoyed repeatedly.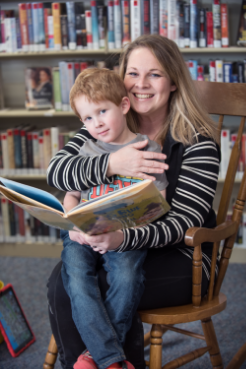 Libraries are very good at helping you find the perfect book, whether for borrowing or buying. We've recently introduced a new service called BookSleuth P.I., where you can fill out an online form with your likes and dislikes, and a CADL librarian will personally respond with some recommendations. Find BookSleuth P.I. here, under the Books & More tab at cadl.org.
Those who like to explore on their own can click on Books & Reading for more tools to help you hone in on titles you'll love. Or feel free to stop by CADL's Leslie branch to chat about books anytime. We love helping people find that one perfect book in a trillion!
- Jeff Antaya, CADL Leslie