Accessing CADL Downtown Lansing During the BWL Project
Posted on: July 8, 2019
Accessing CADL Downtown Lansing During the BWL Project
Starting Monday, July 8, the Lansing Board of Water & Light will extend the traffic zone near CADL Downtown Lansing to include a full closure of S. Capitol Ave. The work is to replace deteriorating steam and water facilities in the area.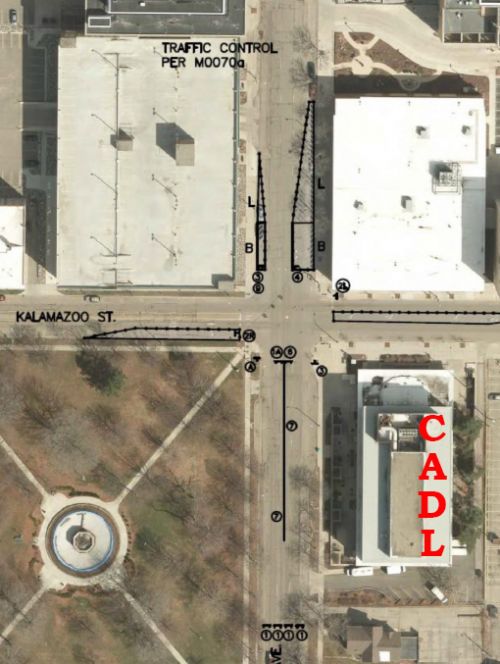 The map above shows where the barrels will be placed. The black outlines show the lane closures on Kalamazoo Street and on Capitol Avenue north of Kalamazoo.
The traffic pattern the city has laid out will allow CADL patrons to drive down the park side of Capitol Avenue and U-turn at the barricade to access the drop-box (pattern shown above). The drop-box will be on the passenger side so patrons may need to exit their vehicle to access it.
Main Takeaways
S. Capitol Ave. will be fully closed from Monday, July 8 till near the end of September to improve steam and water facilities in the area.

There will be no street parking in the area.

CADL Downtown Lansing will be operating under its regular hours.

The city will be placing signs directing traffic as to which direction you may turn.

You must be driving on N. Capitol Avenue to access the library's drop-box. You cannot turn onto S. Capitol Avenue from Kalamazoo Street.

You can only turn right from Capitol onto Kalamazoo.

Patrons can continue to access the drop-box from the passenger side of the vehicle.
Please take caution when operating within the new traffic zone. We look forward to the improvements being made and thank you for your patience and cooperation.